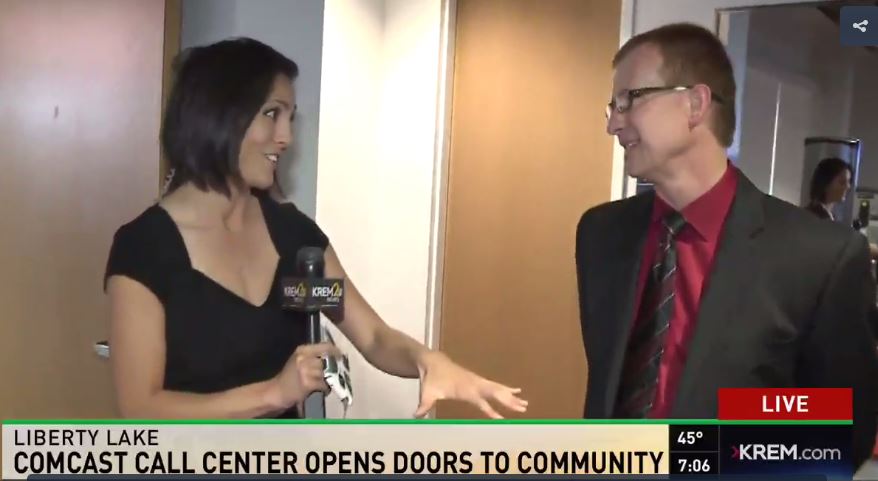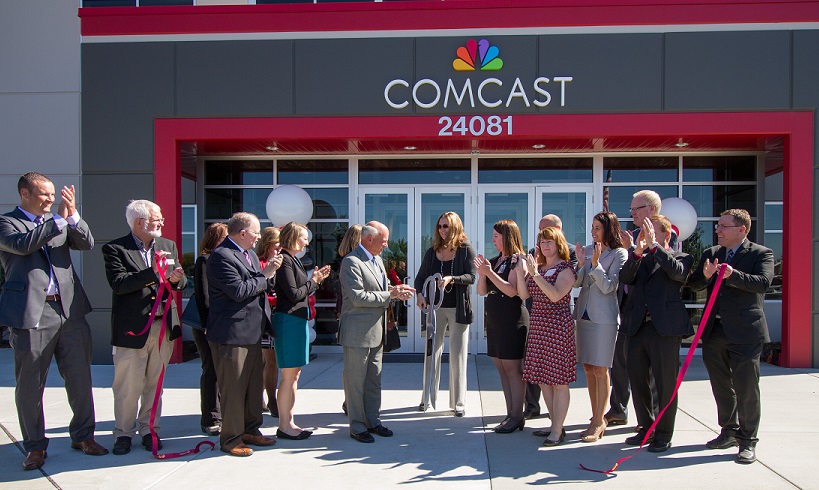 Comcast's Liberty Lake Center of Excellence creates more than 700 new jobs, including positions for military veterans and their family members
As part of its ongoing commitment to reinvent the customer experience, Comcast in mid-September 2016 celebrated the grand opening of a new 80,000-square-foot Center of Excellence in Liberty Lake. The state-of-the art facility houses 470 employees today and will eventually house more than 700.
"Comcast's decision to open its new National Center of Excellence in the Spokane Region of the State of Washington illustrates the many advantages Washington State has to offer," added Washington State Senate Majority Leader Mark Schoesler. "The State of Washington has partnered with the Spokane Region for many years, to help them become economic development ready, to take advantage of opportunities like this one. The availability of a highly qualified and diverse workforce makes the Spokane Region an ideal place to do business. I congratulate Comcast on the grand opening and commend its focus on hiring veterans and their families."
"We are excited to open our Spokane Call Center and welcome our new employees into the Comcast family," added Tom Karinshak, SVP, Customer Service, Comcast. "As a veteran, I'm thrilled to see that more than 25 percent of our new team members are military veterans or family members. We are in the midst of a massive effort to transform the customer experience, and the great people in our new Spokane facility will play an important role in helping us ensure our customers have the best care possible."
Employees in the center are currently taking three kinds of customer calls:
Calls from customers across the country interested in XFINITY Home products and services.
Calls from across the country in support of new customers who have ordered XFINITY products and services through the new Amazon partnership.
Calls related to accessibility – particularly for people with disabilities or relatives working with people with disabilities. These agents are part of Comcast's Accessibility Support Center for Customers with Disabilities, dedicated to resolving issues of importance to our customers with disabilities.
At least 15 percent of the new positions will be filled by reservists, veterans and their spouses or domestic partners as part of Comcast's commitment to hire 10,000 military personnel and their family members by the end of 2017.
"We live in an era of instant communication and entertainment. To support these advancements, Comcast has chosen Liberty Lake to build their latest customer care facility. It is our pleasure to welcome Comcast and their employees to our community and our growing family of businesses," said Liberty Lake Mayor Peterson. "I especially appreciate Comcast's focus on hiring members of the military community as they are such a growing and vibrant part of our city and Spokane County."
Today's announcement reinforces Comcast's continued investment in Washington State. In 2015, Comcast spent more than $841.5 million in Washington on capital expenditures, taxes and fees, employee investment and community investment. Employee investment including payroll, benefits, healthcare, training and tuition reimbursement totaled more than $374 million in 2015. Additionally, last year Comcast contributed $7 million to Washington State community organizations and non-profits.
"Comcast's new presence will bring over $95 million in total economic impact to our region through the creation of thousands of new direct and indirect jobs, payroll and capital investment," said Larry Soehren, Incoming Board Chair, Greater Spokane Incorporated and president & CEO, Kiemle & Hagood Company. "We are proud to have Comcast in our community and their expansion will create positive growth and investment in our region."
The state-of-the-art facility, located at 24001 E. Mission Ave. in Meadowwood Technology Park has best-in-class industry technologies for servicing customers, including a technology demo lab, as well as facilities for a great employee experience, like our fitness center and food services.
Comcast is advertising and requesting applications for remaining open positions at the Liberty Lake Center of Excellence. Those interested in employment opportunities with Comcast are encouraged to review job profiles and opportunities at www.jobs.comcast.com or http://cmcsa.jobs/SpokaneWA where they can also apply for positions.
As you might imagine, all these news jobs in Spokane attracted a lot of attention.:
Click here to see a report that aired on Northwest Cable News.
Here are some examples of social posts generated by the grand opening: