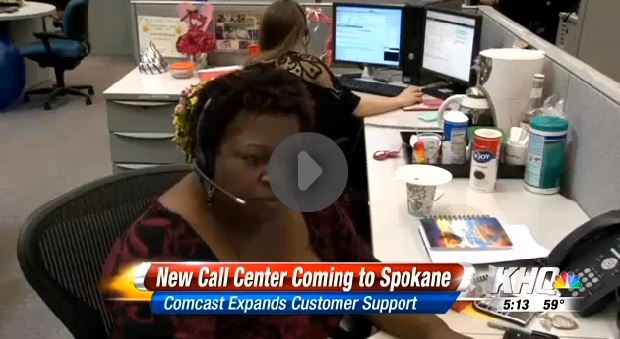 There was excitement in the air in Spokane as Comcast General Manager Ken Watts announced this week that the company would create 675 new jobs in the area at a brand new call center. The announcement was front page news in Spokane, and the source of a long video segment on the city's largest TV news station. (If you watch the video from KHQ, you'll see footage from our call center in Fife) There were reports on several other news outlets, including KREM.
This is all part of a larger Comcast announcement about renewed energy for innovation in customer service: the company blog post that mentions the Spokane call center is here.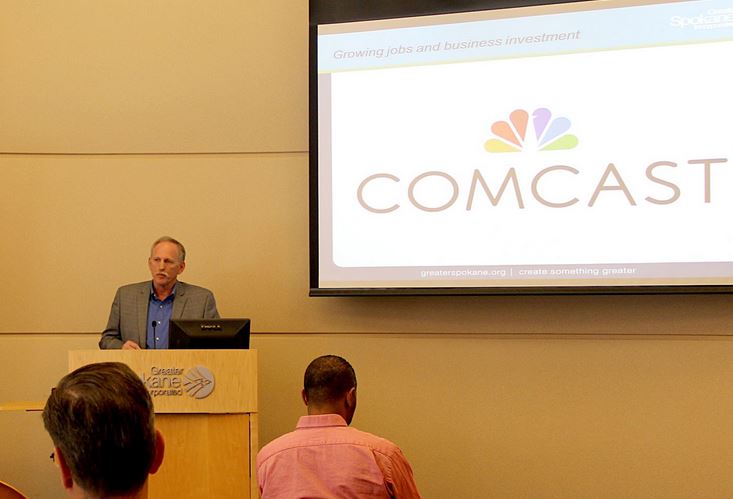 If you add in the roughly 170 Comcasters in Spokane now, this eventually means we will employ nearly 850 people in the area.
"Comcast's addition of hundreds of new jobs in our region proves that this Fortune 500 company sees a tremendous value in what the Spokane community offers.  The Spokane region features outstanding locations for business and a highly trained, tech-savvy workforce.  Comcast's decision is a testament to the strong partnerships this community has between business, education and governments that make eastern Washington the place to grow your business," said Steve Stevens, President & CEO for Greater Spokane Incorporated.
"We are excited that Comcast is deepening its roots in the Spokane area with an investment that brings 675 new jobs to the community. This is a great win for job seekers in Spokane and the local economy," said Spokane Mayor David Condon.
There are some things the company has not yet announced, such as the location of either an interim or a permanent location for the call center. Here is what we did share with the news media:
Comcast Sales and Retention Center of Excellence – Spokane
 As part of its ongoing commitment to provide an excellent customer experience, Comcast announced plans to open a new state-of-the-art Customer Support Center in the Spokane area.
Economic Impact               
Estimated economic impact of $40 million.
Brings 675 new jobs to the Spokane area including positions in management, human resources, training and customer care.
Will invest more than $27 million a year in employee salaries and benefits, while projecting to initially hire 80 people every six weeks.
Employee investments including paid training, tuition reimbursement, as well as vast opportunities for promotion, relocation and advancement within the company.
80,000-square-foot state-of-the-art facility with best-in-class industry technologies for servicing customers.
Employee amenities including a cafeteria and fitness center.
More than $7 million invested in building construction.
Customer Experience: The majority of representatives initially will assist customers from across the nation who call us to order service or have questions about their bills.
Stay tuned for lots more news as this center gets up and running. if you or anyone you know might be interested in working there, many jobs are listed here (such for jobs around Spokane, WA):  jobs.comcast.com