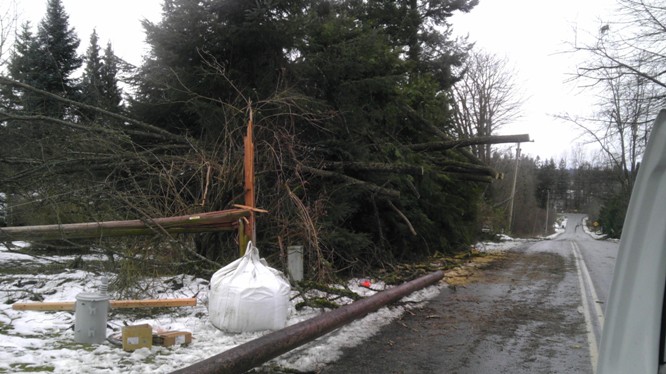 We have just more than 100,000 customers who are without service (2 p.m. update: the number is now about 85,000). This is down from a high of more than 250,000 at the height of the storm. The vast majority of these customers will see their services return once power is restored. Our crews are currently working to make repairs at approximately 200 locations along several thousand miles of lines. In addition, we have hundreds of technicians repairing more than 2,000 individual lines between homes and the network.
In all, we have about 800 workers in the field this Sunday.
It is important to note that due to safety reasons, our network repair technicians can't begin their work until the power company completes its work and gives us the all clear. With more repair crews arriving daily, we have been able to closely follow the power company and begin our work almost immediately after power is restored.
But let's get to your real question …
When will you restore my service?
Normally, this is an easy answer. When our technician comes to your home, more often than not he or she can tell you when they can have your service back up and running.
After a major storm, however, when conditions are continuing to change and much of our work depends on the power company completing its work, the answer becomes much more difficult. Rather than mislead you, we may honestly say "we don't know."
In general, we make the repairs that affect the most people first. Other considerations are whether the roads are driveable, if it is safe for our crews to enter an area or whether the power company has given us the all clear to do our work.
This business is not an exact science. We're out there doing our best, doing things right, and sometimes making mistakes like any humans. We do know our people passionately want to get your service back up. As we like to say, we know the most important outage number is one—that's your home.
Note: You are welcome to leave comments at this post, but we don't monitor this site 24/7 for purposes of customer service. If you have a customer service question or report, call us at 1-800-COMCAST,  email us at we_can_help ('at' symbol) cable.comcast.com, or reach out via Twitter to @ComcastCares, or call us. Please DO NOT use this WordPress site to report an outage.