We're excited to share the story of Natalie Ceis and proud to support her business bodySTRONG  through Comcast RISE. Natalie is an ACE Certified Personal Trainer and NASM Performance Enhancement Specialist. Located in in Burien, Washington, bodySTRONG offers small group fitness classes that focus on strength, conditioning, and mobility. The studio also offers one-on-one personal training in addition to small group training that is more personalized as well.
"Our main goal at body strong is to make strength training accessible and welcoming. That is our bread and butter," said Natalie. "We want to be a place where people can come in, have fun with fitness, and become the strongest versions of themselves."
In March of 2020 at the height of the pandemic, Natalie found herself, like many people, without a job. She had been in the fitness industry and the gym that she worked at closed. So, Natalie started working out of her home.
"I set up shop in my living room with a camera and learned how to work Zoom and live stream classes. People fell in love with the format I offered, and we began to build a community," said Natalie. "We did that online, and eventually, that format progressed into opening our studio here in Burien."
Natalie's biggest challenge as a small business owner is the number of hats she must wear. "Not only are you the owner and CEO, but you are also the HR director, the hiring manager, and the facilities manager. You handle the books, you communicate with the account, you do everything from cleaning to managing the staff to running the classes, and it can be overwhelming at times," said Natalie.
In November of 2022, Natalie was selected to receive a technology makeover from Comcast RISE, a program that gives underrepresented small business owners access to the digital tools and funding they need to thrive. At that time, Comcast announced that Comcast RISE, an initiative created in 2020 to help strengthen and empower small businesses hard hit by COVID-19, had met its goal of supporting 13,000 small businesses nationwide by the program's close at the end of 2022.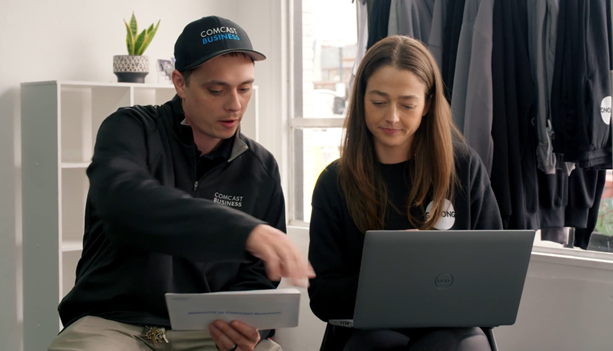 "Winning the Comcast RISE grant was amazing. It made us realize that what we are doing is a big deal. It validated us and our small business efforts," said Natalie. "We stream music during classes. Our lights are connected via Wifi, and more, so the upgraded Internet will help us. And to receive the Comcast Business internet service for free for a year helps alleviate some of our operating costs. Plus, there are the free iPads, which are expensive on their own. The iPads will help our coaches check in customers, so they no longer have to use their own laptops."
Natalie started bodySTRONG on her own and didn't seek outside funding. "I'm so proud of this business and community. We bootstrapped it using my savings and came from zero to what exists today. Seeing that progress and knowing that that is something we started from the ground up is the most fulfilling thing.