"At Living Computers, we offer visitors of all ages a world class, hands on experience with computer technology from the birth of computing to the present," says Aaron Alcorn, Curator at Living Computers: Museum + Labs. Alcorn was at the Bellevue Square Xfinity Store this week to unveil satellite exhibits made possible by a new collaboration with Comcast and the Living Computers: Museum + Labs.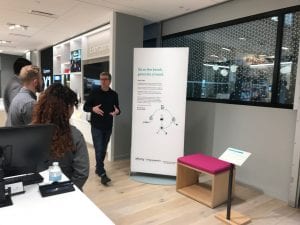 "This collaboration was born from a common passion we have with the local Comcast team to see technology as a way to inspire, surprise and delight.  We believe that in order to understand computing technology, you need to experience it firsthand. This partnership with Xfinity allows us to extend our mission even further by reaching a new audience outside of downtown Seattle, added Alcorn."
The exhibit at the Bellevue Xfinity Store is free and open to the public and will be available to visit during the Bellevue Xfinity store's normal hours. A third collaborative satellite exhibit is also on display at the Living Computers: Museum +Labs in Seattle. The exhibits will run for a limited amount of time and are designed to help visitors at both locations visualize the power of internet connectivity and the role it plays in building and enhancing technology, in a fun and interactive way.
"There is a natural relationship between the internet and the technology we use every day, and these exhibits are a great way for everyone to see that association and power of connectivity in fun and immersive displays," said Anna Luckowski, Director of Sales Support & Marketing Operations at Comcast. "This new, state-of-the-art Xfinity store and this partnership with the Living Computers: Museum + Labs represent where our company is headed as a technology and service provider that understands connectivity is at the center of everything our customers do."
The Living Computers: Museum + Labs Bellevue Store Exhibits
Garden of Light Flowers Display
This playful installation presents a magical 'flower' garden made up of 6-8' tall light flowers. Each flower is made up light panels that respond to ambient sound and directed sound like music or clapping nearby. The exhibit is accompanied by a free-standing fixture to explain its capabilities to customers and encourage them to play and experiment with the piece.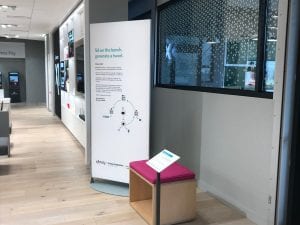 Twitter Bench
This interactive installation visualizes the surprisingly circuitous journey of a tweet. When someone sits on the Twitter Bench, it generates an automatic Tweet (and cute birdie noise). An accompanying graphic simulates the progress of the tweet through the back channels of the Internet.
The Internet of Things Workshop Powered by Xfinity at The Living Computers: Museum + Labs
In addition to the Garden of Light Flowers and Twitter Bench exhibits at the Bellevue Xfinity Store in Bellevue, an Internet of Things Workshop powered by Xfinity is a featured exhibit on the Mezzanine level of the Living Computers: Museum + Labs.
The curatorial direction for this exhibit is rooted in playful exploration. Interpretive content about the Internet of Things surrounds a large communal table that contains several smart hubs, which can control a host of internet connected devices around the room. Motion sensors placed about the room trigger pre-programmed routines. The exhibit entrance is delineated by a co-branded Smart Door, featuring a video doorbell, a smart lock and motion sensors that welcome visitors to the space.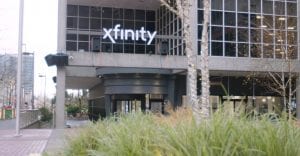 Bellevue Xfinity Store Information
The new Bellevue Xfinity store opened in June 2019 and is one of the nation's largest retail locations for the company. One of only two premier Xfinity stores in the U.S., the 8,400-square-foot retail center will deliver a best-in-class brand experience, built to encourage customers to explore, learn about and interact with the latest Xfinity products and services.
The new Bellevue Xfinity store is part of Comcast's work to transform the customer experience. It will offer an immersive and memorable experience for customers based on their individual needs that goes beyond the traditional transaction-based retail environment. Through it, we will build a more positive, emotional connection to the Xfinity brand.
The new store is the latest example of the investment already made in the greater Seattle area. Comcast has invested $2.5 billion in its technology and infrastructure since 2011.  Comcast has nearly 20 company-owned Xfinity retail locations throughout Washington and employs more than 4,500 people across the state.
To find the nearest Xfinity store or device support center in Washington state, visit www.xfinity.com/local/wa.
About Living Computers: Museum + Labs
Living Computers: Museum + Labs offers visitors of all ages a world class, hands on experience with computer technology spanning from the onset of computing technology to the present. Where most museums put glass in front of their artifacts —we put a chair. Boasting both the world's largest collection of fully restored and usable machines representing icons of computer history and interactive galleries that offer modern experiences with robotics, artificial intelligence, self-driving cars and more. Living Computers: Museum + Labs also offers educational programs focused on the rapidly changing world of computer science and computing history. Founded in 2012 by Microsoft co-founder and philanthropist Paul G. Allen, Living Computers: Museum + Labs is located in Seattle, Washington.
Learn More: https://livingcomputers.org/