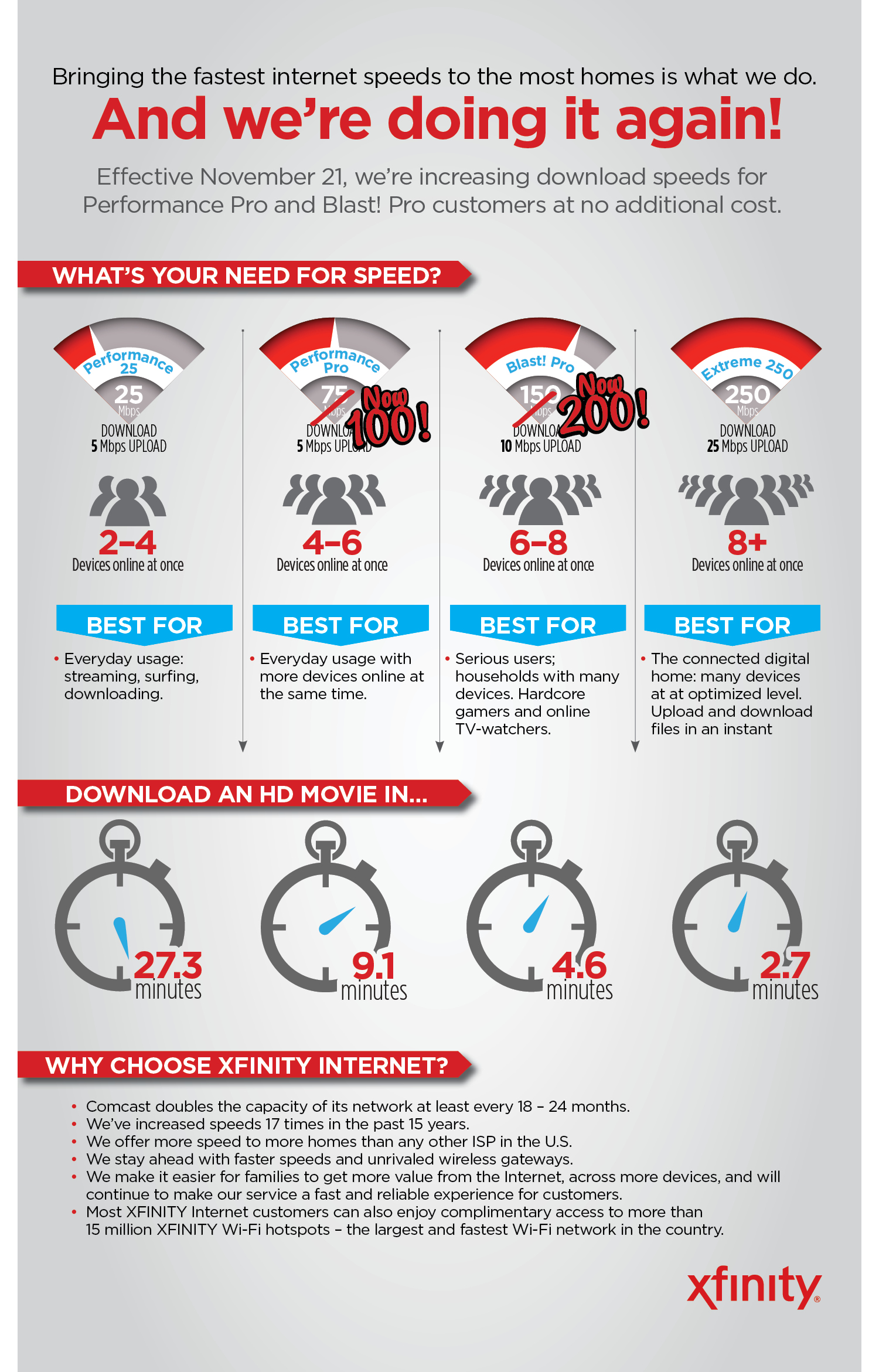 Performance Pro Tier Increases to 100 Mbps and Blast Pro Moves to 200 Mbps
Comcast today, Nov. 21, 2016, announced it is significantly increasing the speeds of its most popular Xfinity Internet speed packages – Performance Pro and Blast Pro – for both new and existing customers in Washington State at no additional cost.
Performance Pro customers will see their download speed increase from 75 Mbps to up to 100 Mbps and Blast Pro customers will receive increases from 150 Mbps to up to 200 Mbps. Most new customers will receive these new speeds immediately when they sign up, and existing users can expect to see new speeds before December 1.
"Every day, we're in our communities upgrading and expanding our facilities and expanding capacity to bring our customers faster speeds, so it's exciting to be able to announce yet another speed increase to give our customers a faster online experience," said Kyle McSlarrow, Regional Senior Vice President of Comcast's Washington Region. "We know our customers want reliability and speed, which is why we monitor signals 24 hours a day and why we have repeatedly increased speeds year after year."
To get the increased speeds, most customers will simply need to re-start their modems when notified by Comcast that the new speed is available. Comcast will also notify customers who may need to upgrade their modems to receive the increased speeds. Customers who lease modems from Comcast will be able to receive upgraded modems at no additional charge. Customers who own their own modems and need to upgrade their modems to receive the increased speeds will need to purchase a new modem or can lease a new modem from Comcast.
Together with other technology and network deployments since 2010, Comcast will have invested $1 billion in Washington to upgrade reliability and capacity, deploy new gigabit services and reach new residential and business customers. Comcast delivers the fastest speeds to the most homes in the country and has increased speeds 17 times in the last 15 years, now delivering speeds in most of Washington from 10 Mbps up to 2 Gbps for residential customers and up to 10 Gbps for business customers.
In addition to increasing speeds for its customers, Comcast continues to offer the fastest in-home WiFi gateway, and most Xfinity Internet customers can enjoy complimentary access to more than 15 million Xfinity WiFi hotspots nationwide by selecting "xfinitywifi" from the list of available networks on their laptops or mobile devices and entering their Xfinity ID or email and password. Hotspots can be found by either downloading the Xfinity WiFi App, available for free on iOS and Android devices, or by visiting the hotspot finder map on www.xfinity.com/wifi.
Like the infographic above, the following offers additional information about speeds and you: