UPDATE: August 29, 8:14 p.m.
SUMMARY:
Crews will be working into the night, while others will be coming in starting at 3 a.m. tomorrow to repair damages caused by the windstorm. Power companies report hundreds of thousands of people are still without power. As we can enter these areas safely, these service disruptions remain our top priority.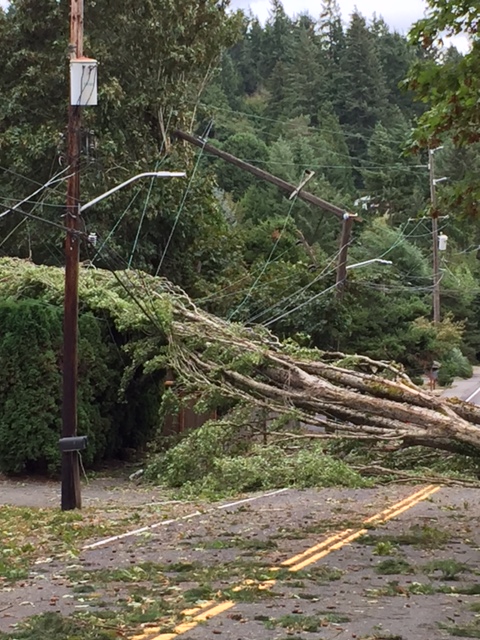 UPDATE: August 29, 6:20 p.m.
SUMMARY:
Video and other services have been restored to Seattle customers who were affected by a power and equipment issue at our head-end facility as described below. However, as a result of continued commercial power outages and other storm damage, some Comcast service disruptions remain in Washington. These service disruptions remain our top priority.
Here examples of what our techs saw in the field today, first from Yelm:
Here are some scenes from Bothell: 
UPDATE: August 29, 3 p.m.
As a result of commercial power outages, Comcast is experiencing service interruptions in Washington.  We are actively addressing these issues and regret the inconvenience they may cause.  Additional crews and generators have been deployed. We are coordinating with our power partners and be assured Comcast is operating in an all-hands-on-deck mode in response to this significant weather event.
While not the only factor, many Comcast service outages are resulting from a loss of commercial power.  We are actively working with our commercial partners to prioritize power restoration to these affected areas. This should result in service restoration to many of our Comcast customers.
Safety is a paramount concern in situations of severe weather. As such, we may have to wait to address certain areas until power crews declare the areas safe.  As soon as they do, we are ready to move in.
In Seattle specifically, there are customers who have power in their homes, but either no or limited Comcast service. We are aware of this issue. This service disruption has resulted from a loss of power to our "head-end" or physical data center facility, responsible for the distribution of our services to the greater Seattle footprint. Restoration of this facility is a top priority for all parties involved.
We thank you, our valued customers,  for your patience and our crews for their dedication to restoring service as soon as possible.​