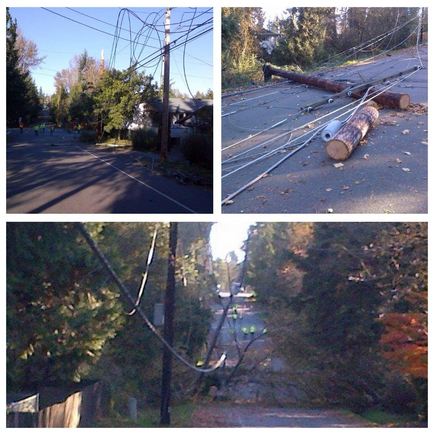 1 pm update: Repairs continue as described below. Check out the photos above for some of the sights we're not enjoying so much out there.
It's been interesting, as these windstorms have been going by, how differently the winds attack different areas during different storms. In the storm before this one, Mercer Island got hammered. This storm, it's parts of South King and Pierce counties, where the winds just kept coming. We estimate about 27,000 customers are without service, almost all because their power is out, heavily focused in the area immediately around our Auburn field office and radiating into Pierce County.
Your best updates for power issues will be the power companies, particularly the Twitter feed of Puget Sound Energy.
When storms arrive, our crews assess where the damage is worst and do what we can to preserve the network. We cheer on the power crews, because they have to go in first to make the scene safe. In some situations, we simply can't even be present because the power situation is unstable, and of course that causes an understandable delay in repairs.
We wait until electrical crews have completed their repairs and make the area safe before we and other people with lines on the poles can move in and begin our work. At all times, the goal is to keep everyone healthy.
Something we occasionally see is a situation where the power is on at a house, but there's an outage nearby on the network that affects Xfinity services. Obviously the goal there is to get services back up, and we apologize if you're one of those people thusly affected. One of the things we try to do when it makes sense is deploy generators when it can boost a network in the surrounding area.
In 99 percent or more of the time, when your electrical service is restored, your Xfinity services will come right back up. In some cases, it's good to perform a powercycle to clear the equipment. If your service is still not working, that could be because of storm damage that you, and therefore we, did not know about until now. And of course that's very frustrating, because all you the customer knows is that you had to wait just to get power back up. We are grateful for your business and your patience after storms like this one. We're out there, fixing where we can, and hoping the wind dies down everywhere!