Tuesday: Your correspondent is on the road, and on a different time zone than the West Coast, so I won't always be able to update this blog. For the latest on storm recovery updates Tuesday, please see our Washington State Twitter feed, @ComcastWA (click here). What follows are updates from Monday:
<
6 pm update: Splicing has been completed of the severed fiber-optic cable on Mercer Island. We're now deploying generators in smaller areas without power, and continuing to monitor and repair network issues when needed and able.
2:45 pm update: We're continuing to work some pocket outages on the Eastside, as power comes up in those areas. meantime, we've strung new fiber-optic lines in the damaged area on Mercer Island that we were able to enter this morning. (see below for the history of Mercer Island repairs) With the fiber-optic lines in the air, we're beginning the splicing that will restore service.
10:45 am update: We've received the all-clear on Mercer Island from Puget Sound Energy and look forward to working on restoring the network as described below.
Original post: Crews continue repairs Monday on windstorm damage from the weekend. In most cases, we're working in places that power crews recently opened back up.
As you may know from previous posts after storms, the first people who can touch a power pole that's been damaged are power crews; they restore electricity and make the area safe. After power crews work their magic, we and others with lines and equipment can move in and restore our services to customers.
On Mercer Island, storm damage was horrible, and a snapping pole not only cut electricity to many but also ripped our fiber-optic cables. As we wait for power crews to complete repairs, we're ready to move in and start splicing. While obviously that damage cut power to many people on Mercer Island, other people on Mercer Island have had power in the meantime, and they're frustrated. We understand, and we're eager to make repairs.
We've heard that we may be able to access this area of Mercer Island at 10 a.m., or sometime  mid-morning; if that's correct, we'll be ready to pounce and begin splicing fiber-optic cables. As cables are spliced, services will be restored gradually.
There are a few other areas where power losses near homes have interrupted the network, and we're following after power crews to get those networks up as well. In the meantime, when power does come back up, both we and you the customer can identify when the issue is damage to a house.
In 99 percent or more of the time, when your electrical service is restored, your Xfinity services will come right back up. In some cases, it's good to perform a powercycle to clear the equipment. If your service is still not working, that could be because of storm damage that you, and therefore we, did not know about until now. And of course that's very frustrating, because all you the customer knows is that you had to wait this long just to get power back up. We are grateful for your business and your patience after storms like this one. If your power is up but service out, you can call  1-800-XFINITY (1-800-934-6489). If you reach a recording saying we know you have an outage, then we know about it, but if not, this is a chance to report the problem.
You can follow repairs by Puget Sound Energy here, and you can also follow updates on our Twitter page, @ComcastWA.
Meantime, you can get another look at storm repairs through the eye of this  team on the Sammamish Plateau: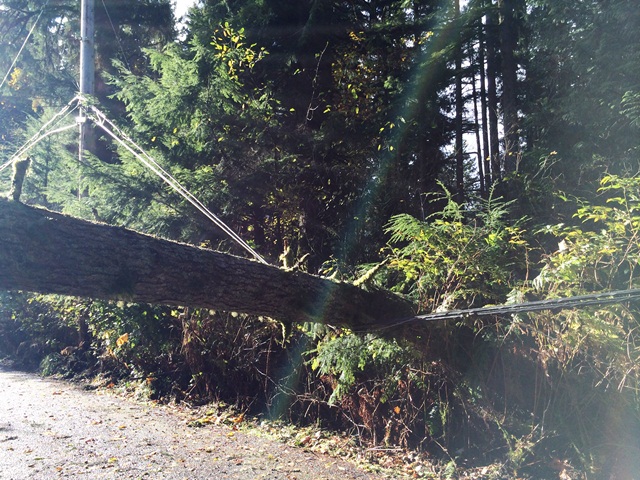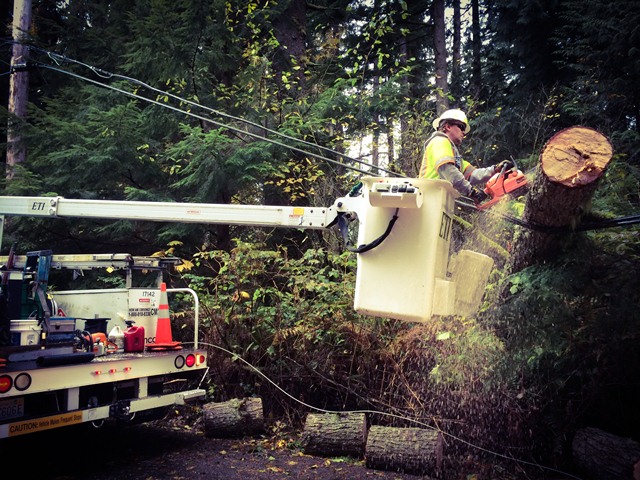 Here's a photo from Issaquah of what our crews found at one location: a 75-foot tree fell over, its roots carrying one of our pedestals about 5 five into the air on its roots.