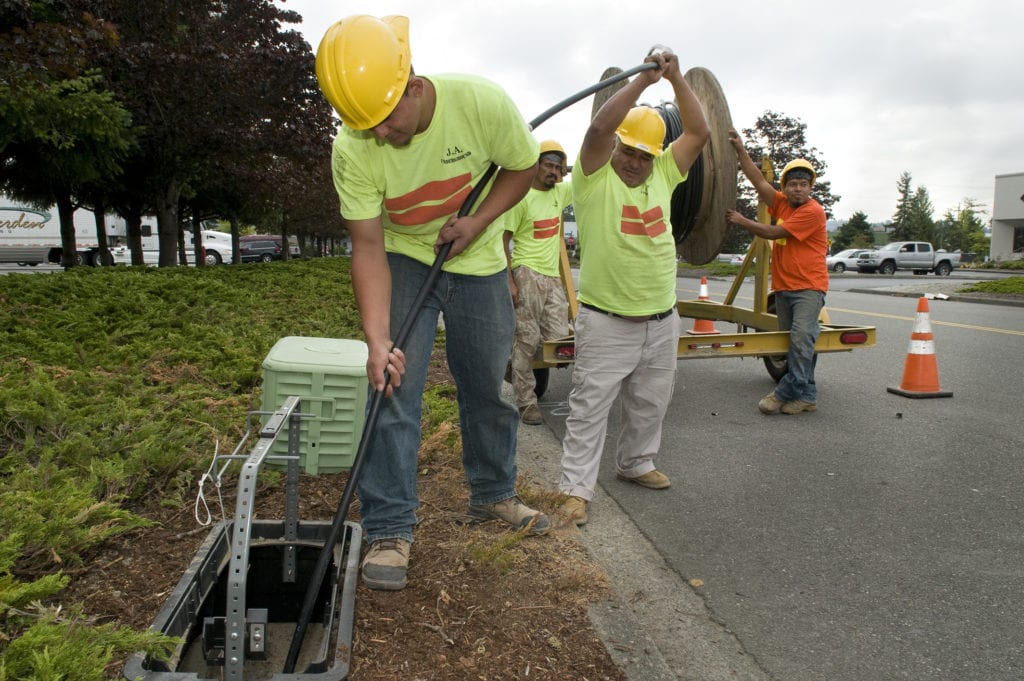 SEATTLE, WA – August 13, 2014 – Comcast Business today announced the expansion of its commercial fiber network, capable of bandwidth up to 10 Gigabits per second (Gbps), to underserved commercial areas in Kent, Washington, the sixth largest city in the state. The network build out will bring Comcast Business Ethernet services to more than 150 local businesses for the first time, providing a cost-effective solution to increase speed, scale bandwidth, or connect multiple office locations on one dedicated network.
"We are pleased that Comcast is making this investment in our community," said Kent Chamber of Commerce Chief Executive Officer Andrea Keikkala. "Connecting underserved commercial areas with high capacity bandwidth for their Internet and data needs is vital for our local businesses to expand and relocate, which creates more jobs and economic opportunities."
Comcast will focus on maintaining and expanding its fiber network throughout commercial areas in the Kent Valley, located at 72nd Avenue South from 180th on the north side to South 196th St on the south side. With this enhanced access to secure and reliable Ethernet, businesses of all sizes in Kent can more effectively leverage the Internet to help increase productivity, provide better customer services, streamline their supply chain, or move their IT applications to the cloud. Kent's diverse economic base includes manufacturing, distribution, warehousing, professional services and retail companies. As these companies expand and grow, Comcast Business Ethernet can also scale to meet these evolving bandwidth consumption demands.
"While the Puget Sound region is known for its strong ties to the technology industry, some commercial areas suffer from lack of 'last mile' access to high-speed Internet and data, limiting the ability for resident companies to achieve their full potential," said Matt Fassnacht, Vice President of Comcast Business for Washington. "This expansion will help companies in Kent to grow and expand their businesses, while helping to increase operational efficiency."
All of Comcast Business's Ethernet services are delivered over an advanced network that spans 140,000 miles across 39 states and the District of Columbia. Serving 20 of the top 25 U.S. markets, Comcast has more than one million Ethernet-enabled buildings on its network. Fiber-based Ethernet services are available in bandwidth levels up to 10 Gbps and can be scaled in increments and offered in three different classes of service, backed by strict service level agreements and monitored 24x7x365 from Comcast's dedicated Network Operations Centers.
In the past year, Comcast received three Metro Ethernet Forum (MEF) Carrier Ethernet Awards, including the prestigious Service Provider of the Year for North America. In addition, Comcast Business was recently named the fastest-growing company ranked on Vertical Systems Group's year-end 2013 U.S. Carrier Ethernet LEADERBOARD.
About Comcast Business
Comcast Business, a unit of Comcast Cable, provides advanced communication solutions to help organizations of all sizes meet their business objectives. Through a next-generation network that is backed by 24/7 technical support, Comcast delivers Business Internet, Ethernet, TV and a full portfolio of Voice services for cost-effective, simplified communications management.
For more information, call 866-429-3085
.
Follow us on Twitter @ComcastBusiness and on other social media networks at http://business.comcast.com/social.
About Comcast Cable
Comcast Cable is the nation's largest video, high-speed Internet and phone provider to businesses and residential customers. Comcast has invested in technology to build an advanced network that delivers among the fastest broadband speeds, and brings customers personalized video, communications and home management offerings. Comcast Corporation (Nasdaq: CMCSA, CMCSK) is a global media and technology company. Visit www.comcastcorporation.com for more information.
# # #