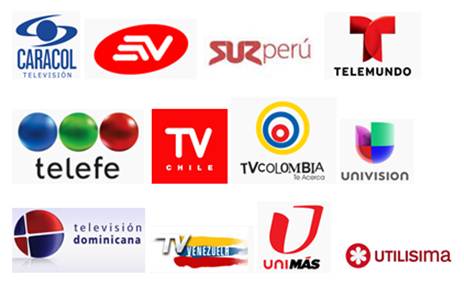 Note: this news release is also available in Spanish.
Comcast is adding a dozen channels of interest to Spanish-speaking customers, four months after Comcast doubled XFINITY On Demand's Hispanic content available through the set top box as well as online with the launch of Xfinity Latino.
Besides popular channels of interest to the entire Spanish-speaking community, the new channels represent programming from specific countries across Latin America including Argentina, Chile, Colombia, the Dominican Republic, Ecuador, Peru and Venezuela.
The channels being added are:
• Caracol (755): the top rated channel in Colombia, providing entertainment and information. http://www.caracoltv.com
• Ecuavisa (765): the number 1-rated channel in Ecuador offering the best of all Ecuadorian television in one international channel. http://www.ecuavisa.com
• Sur Peru (762): the first Peruvian channel launched in the US offering a wide range of informative and opinionated programs, as well as sports entertainment programs for all ages. The channal provides exclusive programs produced by the top channels like América TV, Frecuencia Latina, PAX Television and TV UNSA.http://canalsur.com/canales/surperu/
• Telefe (764): the top broadcast station in Argentina. It provides the best quality in entertainment and programming, with sports, music, series, kids, telenovelas, reality shows and news. http://www.telefe.com
• Telemundo East (791): the East coast feed of the national network with entertainment, news, novelas and sports, broadcasting unique national and local programming for Latinos living in the US. http://www.telemundo.com/
• Televisión Dominicana (754): A collection of the best programs produced in the Dominican Republic. It offers news, music, talk shows, cooking shows, kids programming, soap operas and much more. http://www.televisiondominicana.tv
• TV Chile (752): a family-oriented channel that maintains the traditional style of Chilean TV broadcasting a variety of programs and genres of national and international interest includingnews, soccer, analysis, novelas and much more. http://www.tvchile.cl
• TV Colombia (751): offers telenovelas, TV series, game shows and TV news. http://www.tvcolombia.com
• TV Venezuela (753): is a direct window to Venezuela, something no other channel in the US can offer, with news, entertainment, novelas, and comedies. http://www.canalsur.com/canales/survenezuela
• UniMás East (793): the East coast feed of this national network satisfies the tremendous appetite for diverse programming that today's multifaceted U.S Hispanic community demands including Hollywood blockbuster hit movies, talk shows, sports and news. http://tv.univision.com/unimas/
• Univision East (792): the East coast feed of this national network with top novelas, sports, music, and stars in entertainment. http://www.univision.com/
• Utilísima (766): a channel dedicated to food, health and family. Programming is lifestyle-driven and showcases everything from cooking and personal style to decorating, do-it yourself and home renovation. http://www.utilisima.com/us
The launch of Xfinity Latino late last year built upon the introduction of www.Xfinity.com/latinoTV last year, our Internet destination with access to almost a thousand Spanish-language movies and shows online free to Xfinity Latino customers. More recently, Comcast teamed up with Music Choice, the multi-platform video and music network, to bring customers access to the most extensive collection of Hispanic music videos and original artist content ever available On Demand.
The Xfinity Latino video entertainment experience is available as a standalone video service or as part of double or triple play bundles. All current MultiLatino video customers will automatically be upgraded to receive the new Xfinity Latino video lineup at no additional charge. Channel lineups and availability may vary by market. The new content from Xfinity Latino combined with the Xfinity SurePrice Double Plays and the Hispanic Triple Plays with free carefree minutes to Latin America provide customers with the most value and bundle options available anywhere. For more information, please visit www.comcast.com/espanol.
About Comcast Corporation
Comcast Corporation (Nasdaq: CMCSA, CMCSK) is a global media and technology company with two primary businesses, Comcast Cable and NBCUniversal. Comcast Cable is the nation's largest video, high-speed Internet and phone provider to residential customers under the XFINITY brand and also provides these services to businesses. NBCUniversal operates 30 news and entertainment cable networks, the NBC and Telemundo broadcast networks, television production operations, television station groups, Universal Pictures and Universal Parks and Resorts. Visit www.comcastcorporation.com for more information.