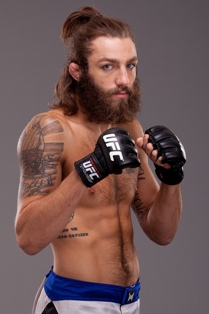 If you're interested in the appearance of famed UFC fighter Michael Chiesa from 1 to 3 p.m. on Feb 2, click here to jump to that information.
On Saturday, Feb. 2, Comcast will host a grand opening of its new XFINITY™ Store in Frederickson, near South Hill and Puyallup. The 3,200-square-foot center provides Comcast customers with an opportunity to explore, learn about and interact directly with the latest XFINITY products and services.
The store is a new location for this growing area and thus created 10 new jobs. Comcast will celebrate this new connection to the community by donating $5,000 to two nonprofits that support our military personnel and their families at Joint Base Lewis-McChord.
The new XFINITY Store is at 5614 176th St E, Puyallup, by the Safeway and Starbucks in Canyon Crossing. The service center features 55"-flat-screen TVs and a comfortable seating area.  Customers also can try out Comcast's converged services and popular apps on iPad's, like the XFINITY TV app.  Kiosks around the center also provide customers with the opportunity to experience XFINITY TV and try out next-generation XFINITY Home Security.
The center in Frederickson is the second of its kind in Western Washington with the new design; the first opened in Federal Way in March 2012. The third store will open later this year in Factoria, with plans for two more opening in 2013.   Comcast currently has 14  service centers located throughout Western Washington and Spokane.
The XFINITY Customer Service Center will be open Monday through Saturday from 9 a.m. to 7 p.m. ((added February 2013: and open Sundays noon to 4 p.m.))  It will serve customers throughout the Frederickson, South Hill, Puyallup, Parkland, Spanaway and Joint  Base Lewis-McChord areas as well as many other parts of Pierce County.
So that's the business and consumer news. Here's the grand opening info. Comcast will celebrate the opening by welcoming UFC lightweight fighter Michael Chiesa to the store from 1 to 3 p.m. on Saturday, Feb. 2. Chiesa, who is from Spokane, won season 15's The Ultimate Fighter. He is undefeated in his professional MMA career with 8 wins and 0 losses. Chiesa will face Anton Kuivanen on Feb. 23 at UFC 157 in Anaheim, CA.
At 12:45 p.m. (new time as of 1/30), Comcast will host a special ribbon-cutting ceremony that celebrates community with two $2,500 donations to two nonprofits that do important work at JBLM within the JBLM Family & Morale, Recreation and Welfare office: the Wounded Warrior Fund and the Survivor Outreach Services Fund. The Wounded Warrior Fund provides coordinated services to warriors in transition and their family members through the Soldier and Family Assistance Center (SFAC). The SFAC efforts are aimed at fostering dignity and independence, while assisting the warrior and their family members in their transition either back to duty or to service as a vital member of the community. The Survivor Outreach Services Fund provides dedicated and comprehensive support services to survivors of deceased soldiers, such as spouses, children and parents. We're thrilled to be moving into the fine neighborhood, and hope we can help the community.
You can see below where the Frederickson Xfinity Store is located. We hope to see you there!
[googlemaps https://maps.google.com/maps?f=q&source=s_q&hl=en&geocode=&q=+5614+176th+St+E,+Puyallup,&aq=&sll=37.6,-95.665&sspn=38.321945,86.572266&t=h&ie=UTF8&hq=&hnear=5614+176th+St+E,+Puyallup,+Washington+98375&ll=47.096333,-122.35573&spn=0.016215,0.042272&z=14&output=embed&w=425&h=350]