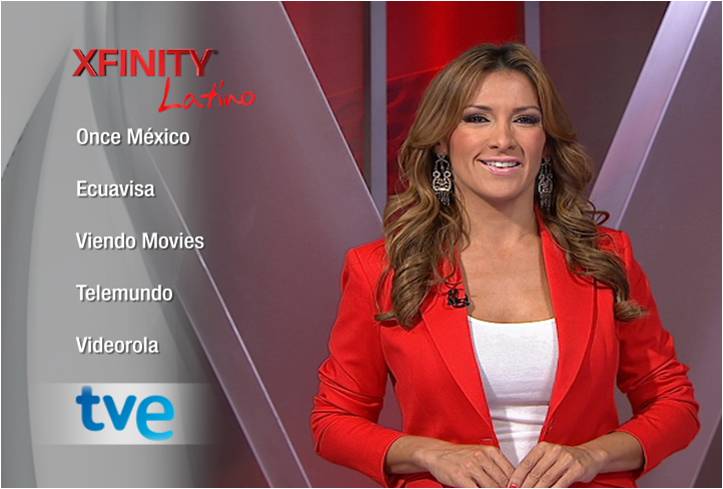 We here in Washington are excited that Comcast has launched Xfinity Latino, an updated suite of video products and services developed exclusively to serve Hispanic customers. Xfinity Latino delivers several new popular Hispanic channels as well as doubles Comcast's Hispanic On Demand content on TV and online.
The upgraded channel lineup includes new television networks such as BabyFirst TV Americas Español, KUNS-MundoFox, Centroamerica TV, LAS (Latin American Sports), Pasiones, and Vme Kids.
In addition, Xfinity digital customers will receive the new interactive Xfinity Latino Entertainment channel. Channel 599 in Western Washington and Spokane has been transformed into an interactive channel for Comcast customers that keeps them updated on programming highlights and helps them maximize their viewing experience using easy-to-use interactive features. For the first time, the channel enables customers to navigate and directly access On Demand content using an embedded interactive menu. The channel is hosted by a variety of TV personalities from Telemundo and also includes how-to video tutorials, recommendations for available On Demand content on TV and online as well as future primetime coverage of special events and programming.
These new offerings represent the most complete and compelling upgrade of the Xfinity TV Hispanic lineup since its introduction.
So what's that mean specifically to Washington State? That's a good question, since we did have many Hispanic-oriented channels already. Here's what's being added:
"Xfinity Latino is the result of years of planning and innovation focused on delivering the best Spanish-language video experience for customers," said Ruben Mendiola, vice president and general manager of Multicultural Video Services. "As a Hispanic, I'm proud that Xfinity Latino brings together the very best programming channels, exclusive content, flexibility, convenience and value that Hispanics are looking for today."
With LAS joining beIN SPORT Español in the lineup, Xfinity will have one of the most comprehensive Spanish sports lineups covering all Spanish League (La Liga) soccer matches, South American World Cup qualifiers, baseball from Cuba, and baseball, basketball and volleyball from Puerto Rico, in addition to wrestling, boxing and Mexican rodeo.
For kids, Xfinity Latino brings together BabyFirst Americas Español, Vme Kids and Discovery Kids, offering one of the industry's most complete Hispanic pre-school offerings available anywhere. Xfinity Latino adds more Spanish-language entertainment options to Comcast's already robust Hispanic video package, giving customers more quality choices and value than ever before.
The launch of Xfinity Latino builds upon the introduction of www.Xfinity.com/latinoTV last year, our Internet destination with access to almost a thousand Spanish-language movies and shows online free to Xfinity Latino customers. More recently, Comcast teamed up with Music Choice, the multi-platform video and music network, to bring customers access to the most extensive collection of Hispanic music videos and original artist content ever available On Demand.
The Xfinity Latino video entertainment experience is available as a standalone video service or as part of double or triple play bundles. All current MultiLatino video customers will automatically be upgraded to receive the new Xfinity Latino video lineup at no additional charge. Channel lineups and availability may vary by market. The new content from Xfinity Latino combined with the Xfinity SurePrice Double Play and the Hispanic Triple Play with free carefree minutes to Latin America, provide customers with the most value and bundle options available anywhere. For more information, please visit http://www.comcast.com/nuevoscanales