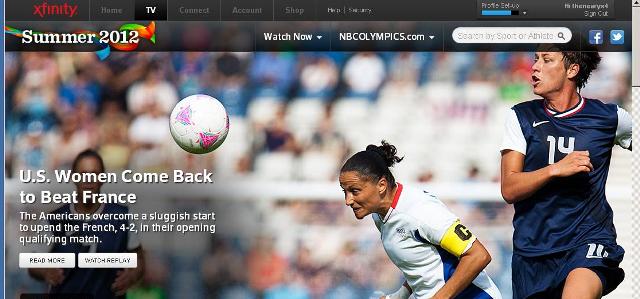 In the old days, if you wanted to watch every minute of the Olympics, you had to travel to where they were being held and clone yourself into two dozen different people. Very few people were ever able to do that; in fact, we're pretty sure no one ever did. But you can skip the cloning step now, because there's 5,535 hours of programming awaiting you if you are a Comcast Xfinity TV customer in Washington. You can watch all 32 sports and 302 gold medal events.
In short, people will have more choices than ever in how to watch the Olympics.
So after you read this post, we recommend you go to sleep now to gather up your energy.
Many people will have used apps before, so we may be telling something you already know. But here's something you might not know:  two special HD channels will open up in Western Washington and Spokane County for specialized 24/7 Olympics coverage: Channel 895 for basketball and Channel 896 for soccer.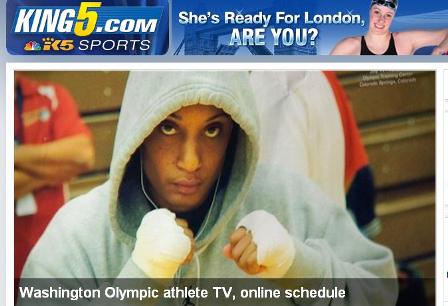 You can find your viewing options – and the latest news and other info – through Comcast's central Olympics information portal. Subscribers can stay connected to the London Summer Olympic Games wherever they go exclusively via NBCOlympics.com, and the NBC Olympics and NBC Olympics Live Extra apps available to mobile and tablet users. The apps will show 3,500 hours of live programming.
Following are multiplatform offerings that will allow Xfinity TV customers to watch and be a part of the London 2012 Olympic Games, including live streaming, VOD, mobile and tablet apps and a 3D channel.
NBCUniversal's Olympics Experience on Xfinity Includes:
NBCOlympics.com: NBC Olympics Live Extra, the exclusive home of Olympic live stream content at NBCOlympics.com/LiveExtra, is available now to the vast majority of customers who subscribe to the Digital Starter package and sign-in.  NBCOlympics.com will live stream more than 3,500 programming hours, including Olympic events and coverage from NBC Sports Network, MSNBC, CNBC and Bravo, for the first time ever, so that Xfinity TV customers can easily verify their subscriptions and watch Olympic coverage live online at no additional charge. Xfinity TV customers can also utilize the Xfinity website for the Ultimate Viewer's Guide that gives users easy access to NBCUniversal's live streaming events at NBCOlympics.com.
Xfinity TV customers should follow these verification procedures to access Olympic programming via NBCOlympics.com:
Go to NBCOlympics.com/LiveExtra
Click the "Click Here & Get Ready" button
Select Comcast
Enter the username and password that corresponds with your Comcast Xfinity TV account
You are signed in throughout the Games on that device!
Comcast Xfinity customers with both video and high-speed Internet service will automatically be verified when in their homes; when out of the home, customers that don't have their account information can easily access that information through their phone numbers and other easy ways.
Additionally, Xfinity.com will offer enhanced TV listing guides with filters to quickly find NBCUniversal's Olympic events and view TV listings in 30-minute programming blocks. Xfinity TV customers can also utilize the Xfinity website to change the channel on live TV or tune to programming on Xfinity On Demand, record events on their DVR, and view the latest news, highlights and schedules. Xfinity.com/latinotv will offer special Spanish-language guides and tools to help users control and manage their Olympic viewing experience.
Mobile and Tablet Apps: NBCUniversal will offer two apps for mobile and tablet viewing.  The NBC Olympics Live Extra app will be available to verified Xfinity TV customers and will offer the same live streaming and event replays available via NBCOlympics.com/LiveExtra.  The NBC Olympics app will include short-form highlights, schedules, results, columns and more and will also link to the NBC Olympics Live Extra app.  In addition, Xfinity TV customers can takeadvantage of the second screen experience through the Xfinity TV app, on iOS and Android devices, featuring similar tools like Xfinity.com/NBCOlympics – in the convenience of a mobile app.  Also, the Xfinity TV Sports Remote app includes similar features as the Xfinity TV app (with the exception of the "Watch" feature), including the ability to sort by Olympic sport on the guide, as well as link to NBCOlympics.com to download both the NBC Olympics and NBC Olympics Live Extra apps.
Click here for links and more info about our apps
On Demand: NBCUniversal is making Olympic highlights and full-event rewinds available via Xfinity TV's Video-On-Demand service. Watch NBCUniversal's more than 1,000 total Olympic pre-Games and in-Game entertainment choices, including all medal events and 240 full event replays, as well as Bob Costas' daily recaps and highlights from the Games.
3D:  Panasonic Corporation of North America and the NBC Sports Group have partnered to make the London 2012 Olympic Games available in 3D to Xfinity TV customers.  The effort will produce 242 hours of coverage and mark the first time that the Olympic Games will be distributed in the U.S. in 3D.  The 3D broadcasts will be shown on next-day delay and will span multiple competitions throughout the 2012 London Summer Olympic Games.
Specialty Channels: Dedicated 24/7 basketball and soccer channels are available to Xfinity TV customers, and will total 770 hours of NBC's HD coverage. At the start of the Olympics and for its duration, the HD channel for basketball will be channel 895 and soccer on channel 896 in Western Washington and Spokane County.  Additionally, all men's soccer matches and Team USA women's soccer matches will be available in Spanish via SAP.
The 2012 London Olympic Summer Games will run throughout 19 unforgettable days and nights, covering every sport, medal, champion and riveting moment. For more information, visit www.NBCOlympics.com or  www.xfinity.com/nbcolympics.
Oh and speaking of that: the very brave people at KING TV in Seattle are trying to keep track of all the London Olympics athletes with Washington State ties, and even more bravely, a list of when and what time athletes with Washington State ties will be competing in the London Olympics. Check out those links for extra local information or KING's main Olympics page. Viewers in Spokane can enjoy KHQ's Olympics page here.  The person trying to keep track of all this at KING is Travis Pittman, who you should thank if you see him.
Ok, enough said. Time to get to bed.