One of the things we do in our office is help manage community giving by Comcast in Western Washington and Spokane. What I like to do as an exercise is plot out on a map where Comcast donates. We use a wonderful tool offered by the great folks at Zeemaps. Today I gathered up info from several databases and charted Comcast's 2011 giving, and then added that info to the main map.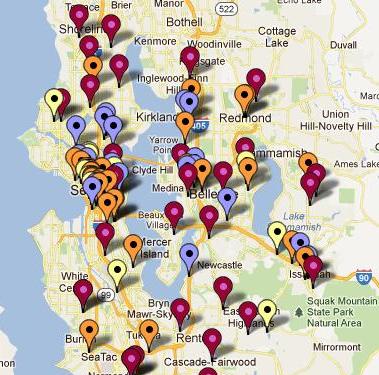 This exercise helps us identify any geographic gaps. The map also,  frankly, helps answer a question that comes up from time to time: "So what does Comcast do for the community in Washington state?" Now, I don't know how often that question comes up.  I have no idea how many people take local community giving  into account before choosing to give their business to us or a competitor. Of course, it doesn't matter how often people ask the question. Community giving is the right thing to do on its own. The right community investment can produce the ultimate return on investment: changing entire lives for the better.
Among the most common ways we donate: scholarships through the Leaders and Achievers program, airtime on Comcast Newsmakers or through public service announcements we air on cable channels, cash grants by the local office or the Comcast Foundation, airtime donated through On Demand, and more. We spend a lot of time thinking about how to donate to support youth technology programs and many other worth groups and causes.
Among the largest recipients in 2011: Hire America's Heroes (which promotes the hiring of veterans by private industry statewide), the Wing Luke Museum of the Asian-American Experience, the Lenny Wilkens Foundation, Alliance for Education, TVW, City Year of Seattle/King County, Tacoma Urban League, Hopelink, and the Boys & Girls Clubs of Spokane County, Whatcom County and Thurston County. As you can see from the map, that's just a partial list.
All that said, there's a price that one pays for seemingly "giving away" money. We spend a lot of time having to say no. There just isn't enough time, money and other resources to say yes to everyone.  We've got a pretty full list of groups and causes we sponsor now. But if you ever want to apply for your group, you're always welcome to fill out our online application. If you'd like someone from a group to be on Comcast Newsmakers, our public affairs segments filmed in both Western Washington and Spokane, you can get more information here.