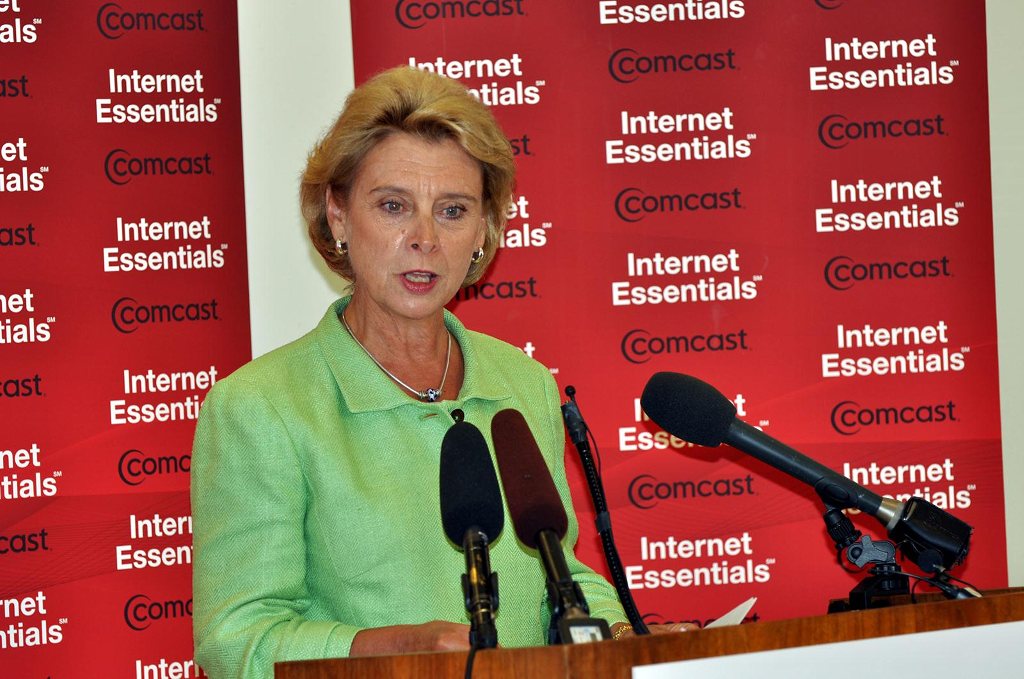 COMCAST, WASHINGTON GOVERNOR, TACOMA MAYOR, SCHOOL AND NONPROFIT OFFICIALS SHARE BEST-IN-CLASS DIGITAL INCLUSION INITIATIVES TO HELP CLOSE THE DIGITAL DIVIDE IN WASHINGTON STATE
'Internet Essentials' to Provide Families with Children Eligible for a Free Lunch under the National School Lunch Program with Low-Cost Internet Service, Affordable Computers and Digital Literacy Training
Update: Here's some news stories that describe this development:
          Techflash

         An editorial in The News Tribune

        A segment on KING TV's New Day Northwest
See more pictures from this event on our Facebook page.
 (Tacoma, WA) Sept. 15, 2011 – Washington Governor Chris Gregoire, Tacoma Mayor Marilyn Strickland, Tacoma School Board President Kurt Miller, Tacoma Urban League CEO (and City Councilwoman) Victoria Woodards, Tacoma Housing Authority Executive Director Michael Mirra and Comcast Washington Senior Vice President Len Rozek hosted a briefing today to discuss best-in-class broadband inclusion programs.
At a Tacoma Housing Authority computer center in the Hilltop area of Tacoma, Rozek explained a new national initiative called Internet Essentials, which is being viewed as the most ambitious and comprehensive broadband adoption program in the state and country to date.
The program addresses three primary barriers to broadband adoption:
A lack of understanding of how the Internet is relevant and useful;
The cost of a home computer, and
The cost of high-speed Internet service.
Internet Essentials is available to families living in Comcast's service areas with children who are eligible to receive a free lunch under the National School Lunch Program (NSLP). The goal of Internet Essentials is to help ensure more families benefit from all the Internet has to offer.
According to Rozek, "We're excited to bring broadband and computers to so many young people and families. We have long provided financial and in-kind support to programs promoting digital literacy and increased broadband adoption. To us here in Washington, Internet Essentials takes all that work to a new level. This program has the potential to help thousands of our Washington families cross the digital divide."
During the briefing at Hillside Terrace, Gov. Gregoire, Mayor Strickland, and other leaders joined Rozek to  introduce Internet Essentials and discuss ways to work together to help bridge the digital divide.
"We live in a wired world," Gov. Gregoire said. "And those who don't have access to that world are at a real and growing disadvantage. With Internet at home, children can research and complete their homework, adults can seek new or better jobs, and families can explore the world together. I commend Comcast for undertaking this initiative, and encourage other businesses to find new and creative ways to help families succeed."
Gov. Gregoire filmed a Public Service Announcement that Comcast will begin airing this week that encourages people to support broadband adoption programs.
"Comcast's commitment to closing the digital divide is a much needed boost to those who do not have Internet access at home — providing families with important resources that many of us take for granted," Mayor Strickland said. "The Internet Essentials program is a perfect example of how a local school district, city government and the business community can work together to help families with education, and other quality of life needs that rely on access to information. We're embracing this in Tacoma."
"As America increasingly becomes a digital nation, in-classroom learning is being supplemented with digital curriculums and at-home assignments," said School Board President Miller. "Internet Essentials will help more low-income families benefit from the educational resources and assistance the Internet provides. They will have greater access to the many online programs and educational resources our district has developed to help our students."
The very first training in Washington State for new users of the Internet will be Tuesday, Sept, 20,  conducted by the Tacoma Urban League and its youth Digital Connectors.
"We're pleased that Comcast wants to bring not only the Internet to these homes, but also knowledge of how the Internet can be used safely," said Victoria Woodards, CEO and President of the Tacoma  Urban League. "We need parents, educators, community leaders and other government officials to join in this effort, spread the word about Internet Essentials and help increase broadband adoption in our community."
Service Details:
Qualified Internet Essentials families will receive:
Residential Internet service for $9.95 a month + applicable taxes;
No price increases, no activation fees, or equipment rental fees;
A voucher to purchase a low-cost computer for $149.99 + tax; and
Access to free digital literacy training in print, online, and in person
Additional benefits include a complementary Norton™ Security Suite ($160 value) for comprehensive online security protection.
Eligibility:
A household is eligible to participate in the Internet Essentials program if it meets all of the following criteria:
Is located where Comcast offers Internet service;
Has at least one child who is eligible to receive free school lunch under the NSLP;
As an example, according to the Department of Agriculture, a household of three would have to make less than $25,000 a year in income;
Has not subscribed to Comcast Internet service within the last 90 days;
Does not have an overdue Comcast bill or unreturned equipment.
Comcast will sign up eligible families in the program for at least three years, through the end of the 2013-2014 school year. Any household that qualifies during this three-year period will remain eligible for Internet Essentials provided a child eligible for a free lunch remains living in the household.
For general information about Internet Essentials, please visit www.internetessentials.com for English and visit www.internetbasico.com for Spanish. Educators or third-parties interested in helping to spread the word can find more information at www.internetessentials.com/partner. Parents looking to enroll in the program can call 1-855-846-8376 or, for Spanish, 1-855-765-6995.
About Comcast Corporation:
Comcast Corporation (Nasdaq: CMCSA, CMCSK) (www.comcast.com) is one of the nation's leading providers of entertainment, information and communications products and services. Comcast is principally involved in the operation of cable systems through Comcast Cable and in the development, production and distribution of entertainment, news, sports and other content for global audiences through NBCUniversal. Comcast Cable is one of the nation's largest video, high-speed Internet and phone providers to residential and business customers. Comcast is the majority owner and manager of NBCUniversal, which owns and operates entertainment and news cable networks, the NBC and Telemundo broadcast networks, local television station groups, television production operations, a major motion picture company and theme parks.
Comcast has about 3,300 Washington employees, including 1,000 local customer service representatives in three call centers, who serve more than 1.1 million customers in Washington. For more information, visit http://www.comcastinwashingtonstate.com.
There's been a lot written about Internet Essentials; visit our corporate blog for more announcements in other states and more information about the program.