Public and private partnerships are providing critical solutions to address the digital divide for small businesses, and one of the most productive public-private partnerships we've participated in over the last year+ is with the Seattle Office of Economic Development (OED).
This week we expanded that partnership to launch and expand critical digital resources to support Seattle's small businesses most impacted by COVID-19 and the digital divide. We contributed nearly $40,000 in addition to OED's $50,000 investment to Kay Tita, a social impact nonprofit, who will implement the new Digital Sales Access Program (DSAP). DSAP will support 50 small businesses by equipping them with a point-of-sales (POS) system and connecting participating businesses with the tools and training needed to pivot their operations to a new digital system. This new system will allow small business owners to grow their business by switching from cash-only to accepting debit, credit and other digital forms of payment. This program will increase businesses' e‑commerce capacity and improve digital literacy, financial awareness and overall business health.
To be eligible for the new Digital Sales Access Program, small businesses must have a maximum of five employees; be interested in learning how to leverage digital resources to grow their business; and be cash-only or in need of a POS upgrade. Each eligible business owner will receive POS equipment, a Square stand, an iPad Air and one-on-one POS training. Businesses that meet the eligibility requirements can apply by Tuesday, June 15, and find more information at kaytita.org/dsap.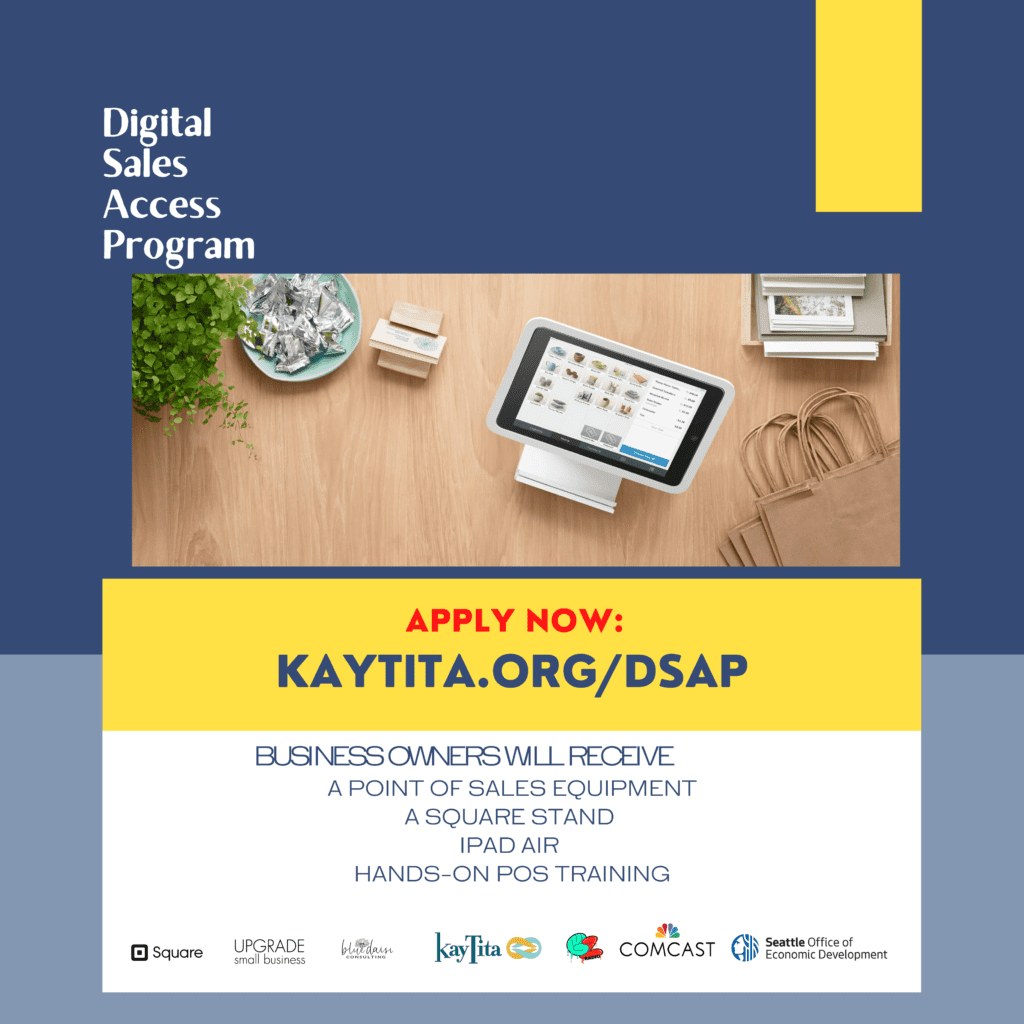 Additionally, OED and Comcast partnered with community-based organization HomeSight and neighborhood business districts to expand the Essential Southeast Seattle Initiative (ESES) online marketplace for small businesses. ESES is part of a digital access initiative for local businesses in Southeast Seattle to adapt to an increasingly digital economy, with targeted support for small Black, Indigenous and people of color (BIPOC) businesses. This program includes an e-commerce platform for Southeast Seattle small businesses; digital access support to get their business online; and technology equipment to meet business needs. This initiative was developed in response to COVID-19 with a $50,000 investment from Comcast to encourage and support the community's ability to shop local and support small businesses through online platforms.
In addition to monetary donations, we worked alongside our partners at OED, Kay Tita and HomeSight to identify tech access gaps to help create these programs. There is something unique and special about a partnership between a city and a corporation that can help to drive key initiatives forward for a community. This is what OED and Comcast discovered when we began working together in early 2020 to support businesses and workers impacted by COVID.
We all have different strengths and this OED partnership is a strong example of what a public-corporate partnership can do to impact social issues and bring equity to businesses that need it most.  A traditionally "unorthodox" partnership like this can merge perspectives and resources and ensure there are different solutions and resources available to address an issue like digital equity.
Quotables: What they are saying about the Programs
"This past year has been truly devastating for so many of our small businesses. We saw early on that businesses that could quickly pivot to online delivery and e-commerce solutions were able to adapt more readily to the challenges of this pandemic. As we look towards recovery and reopening, it will take all of us working together to develop creative and innovative solutions to address the issues that impact our most vulnerable businesses. I am proud of the intentional collaborative approach our Office of Economic Development has been taking, by working with organizations such as Comcast, HomeSight and Kay Tita, among others, to connect small businesses to technology and the digital and financial literacy resources that will help them not only stabilize but thrive after this truly unprecedented year." – Seattle Mayor Jenny Durkan
"Seattle is a technology hub; however, some small businesses do not have the same level of technological infrastructure that other businesses have. Comcast and other local organizations have been critical partners for OED, as we have worked together to respond to the digital divide that is impacting our small businesses owned by people of color, immigrants and refugees. Public-private partnerships will support our ability to more quickly and holistically respond to the great needs our small businesses have." – Pamela Banks, Director of the Office of Economic Development and Director of Recovery and Equitable Investments
Essential Southeast Seattle was a SE Seattle business district collaboration originally created in April of 2020 to help combat the loss of business due to the impact of COVID-19, and while it still serves that very purpose, the partnership with the City of Seattle Office of Economic Development and Comcast will help launch our vital small businesses into the digital era. This initiative will provide digital access support and technology equipment to our small businesses — the majority owned by people of color, immigrants and refugees, to help fill the digital void felt in Southeast Seattle. We are incredibly grateful and excited to be a part of this partnership."– Sarah Valenta, Director of Community and Business Development at HomeSight.
"Strong public-private partnerships are uniquely positioned to have a positive impact and support important causes in our local community. Our collaboration with the Office of Economic Development over the last year is a direct example of that. We are proud to work with Kay Tita, HomeSight, and OED to support the recovery of Seattle's vibrant BIPOC small business community and help it grow through more equitable access to technology, funding and other resources."- Rodrigo Lopez, Region Senior Vice President, Comcast Washington