Fantastic weather and thousands of volunteers marked another successful Comcast Cares Day in Washington state in 2019. We had 35 projects supporting 27 different nonprofit organizations and were active in nearly every major market statewide. And, thanks to Comcasters, family, friends, neighbors, non-profit partners and local businesses – this was one of the best Cares Days we've seen in our state over the last 18 years.
More than half of our projects this year were focused on supporting groups and communities living without shelter or in transitional housing – one of Washington's most pressing civic issues.
Seattle
In Seattle, we supported Plymouth Housing, an organization that has helped the local homeless community for 40 years. It is one of the most successful non-profit groups in the country when it comes to helping people find housing and services. We enjoyed working on cleaning, beautifying and assisting in the maintenance of nine of Plymouth Housing's 14 locations, along with creating meal kits, serving meals, building out community gardens and much more. We are truly touched by the work of Plymouth Housing and the impact it has on our region, and we were happy to help support the community it serves.
"When business leaders like Comcast take an active interest in supporting those who have experienced homelessness, everyone in our community benefits. When volunteers come to serve meals or beautify our buildings, they connect our residents to the greater community and remind them that they are valued members of our society. That goes a long way toward helping them achieve stability after the traumas of homelessness." – Paul Lambros, CEO of Plymouth Housing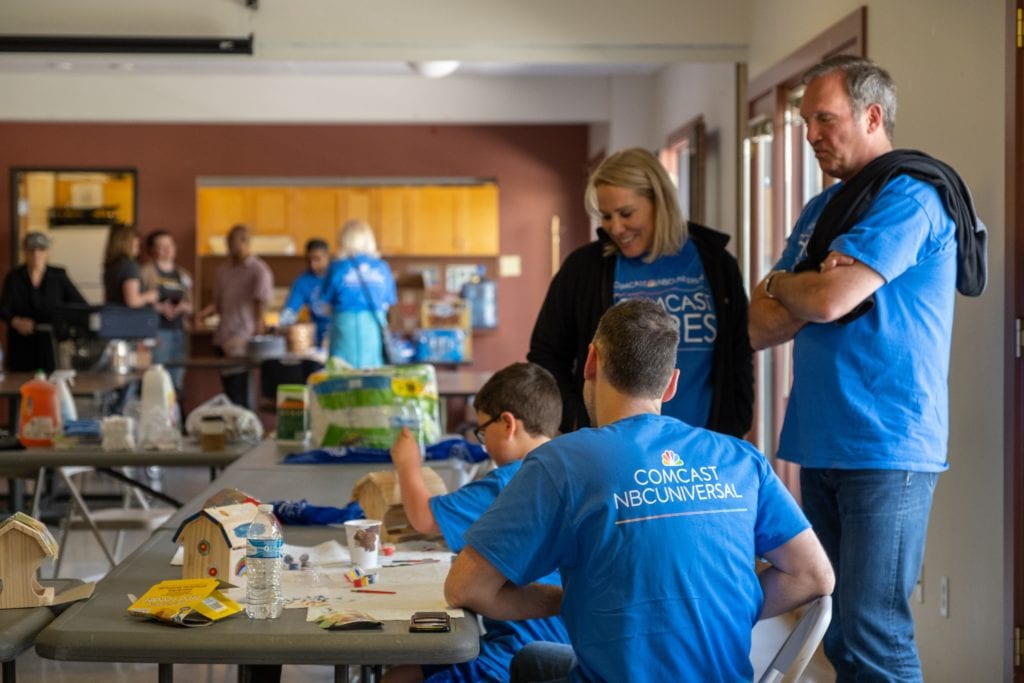 Spokane
Our team in Spokane took on a number of projects with Volunteers of America to help the local homeless community. The day before the big events we assembled hygiene kits for families and individuals of Spokane. And on the day of, Comcasters worked across several projects to spruce-up shelters and centers supporting the region's population, including Alexandria's House, Crosswalk, Hope House and Lloyd's House. We beautified yards, planted new plants, painted and cleaned, and had a wonderful time doing it with our friends and family.
We also had a group working in the Sheridan Elementary Community Garden, which helps the school teach children about science, plants, sustainable food and gardening. You can read more about this project in this Spokesman-Review article.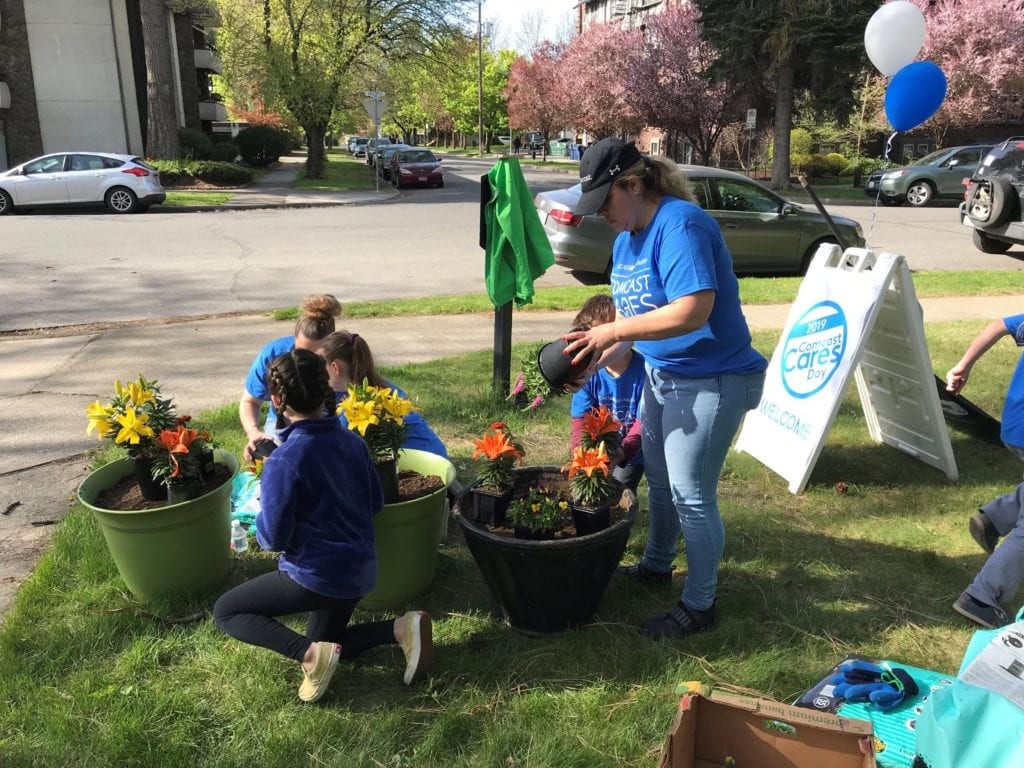 Auburn
More than 300 of us from our Auburn offices met to revitalize the facilities at the Auburn Valley YMCA, where we painted picnic tables, planted flowers and vegetables, removed blackberry bushes along the fence line, trimmed vegetation and installed flooring for the facility's ball pits. This great local organization has an impact on everyone in our community and our team was happy to help beautify its building for the people of Auburn. We even received a special guest, Auburn Mayor Nancy Backus.
"I am happy to be here witnessing the improvements helping this great organization today. I want to also thank our local Comcast office, their families and others from across the community here volunteering, their work is an example of the strong community impact a group of people can have when coming together and working towards a common goal." – Auburn Mayor, Nancy Backus.
Comcast volunteers and their families also came out in full force at several other events and activations in the region, including the Nexus Youth & Families center, where we organized and stocked the non-profit's food pantry and prepared meals for local shelters and people in need.
You can read more about our Auburn projects in this edition of the Auburn Reporter.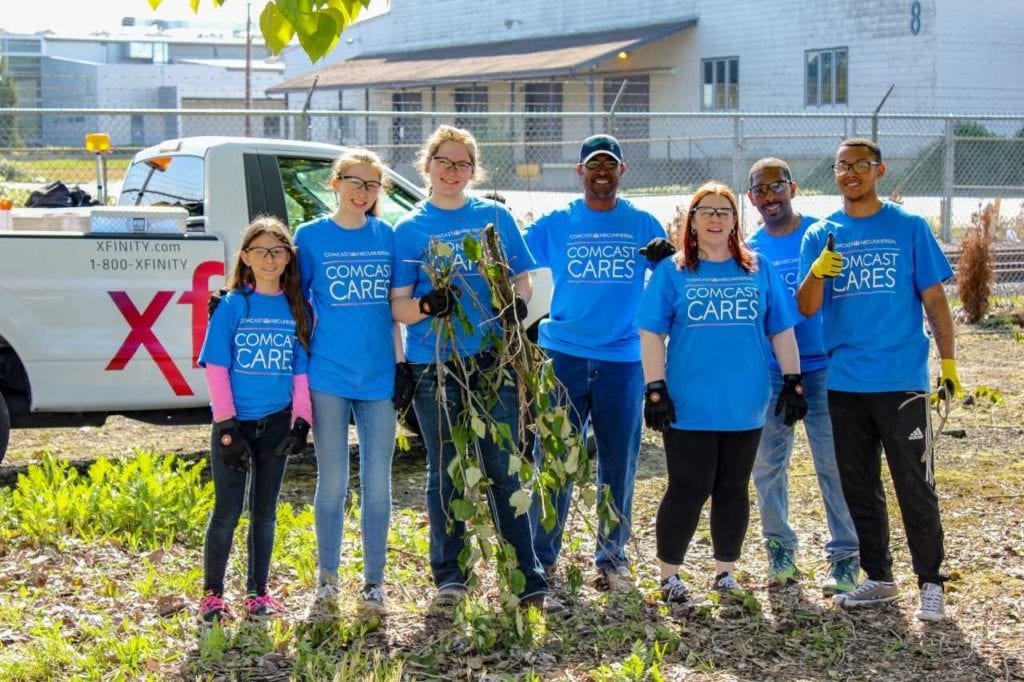 Bellingham
While not focused on our homelessness initiative, our Bellingham project was also one to remember! We had the honor to help Camp Korey in nearby Mount Vernon, Wash. prepare (a portion of…) its 200-acre grounds for the upcoming summer season.  Volunteers painted and cleaned bathrooms, put together bunk beds, built fences and teepees, and did other maintenance jobs to help the camp prepare for its summer season. Summer camp is such an important part of children's lives, and we were happy to help this organization get ready to give kiddos a summer they'll remember.
"Their team has saved us at least a month of work for our staff and helped us tackle some new improvements," Henningsen says. "After this long winter weather, the Comcast Cares Day volunteers have helped ensure the safety of our campers and increased our ability to adapt programming for kids so they can embrace the joy and adventure of camp." – Jay Henningsen Camp Korey CEO/Executive Director
You can read more details about this fun-filled project in WhatcomTalk – a local community newspaper who joined us for the day.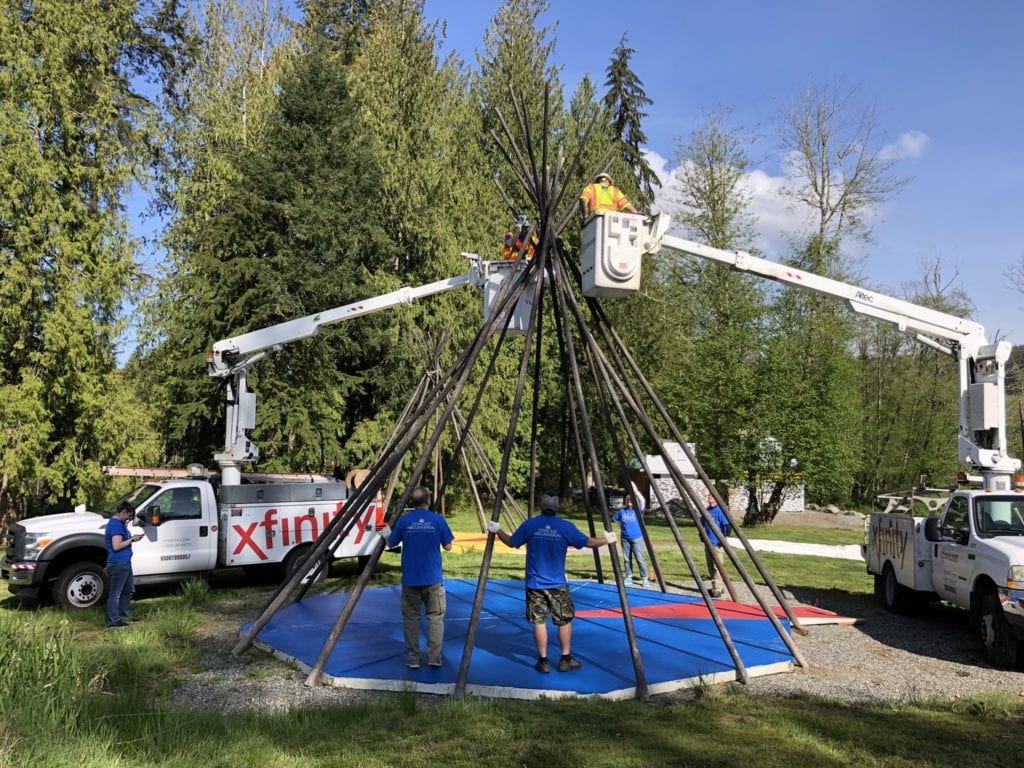 Tacoma
300+ employees and their families, friends and community partners worked to make change happen by improving local parks and assembling kits for the homeless as part of the Tacoma-focused Comcast Cares Day. Our teams worked with Boy Scouts of America and the Bethel High School National Honor Society to clear trails, remove debris, repair fences at Fort Nisqually, and beautify key park features. Other Comcasters assembled over 1,000 essential care and hygiene kits to support families experiencing homelessness in Pierce County –  doubling last year's efforts for the same project!
For more information on this one, check out the great write-up in Tacoma Weekly, one of the top publications in the area.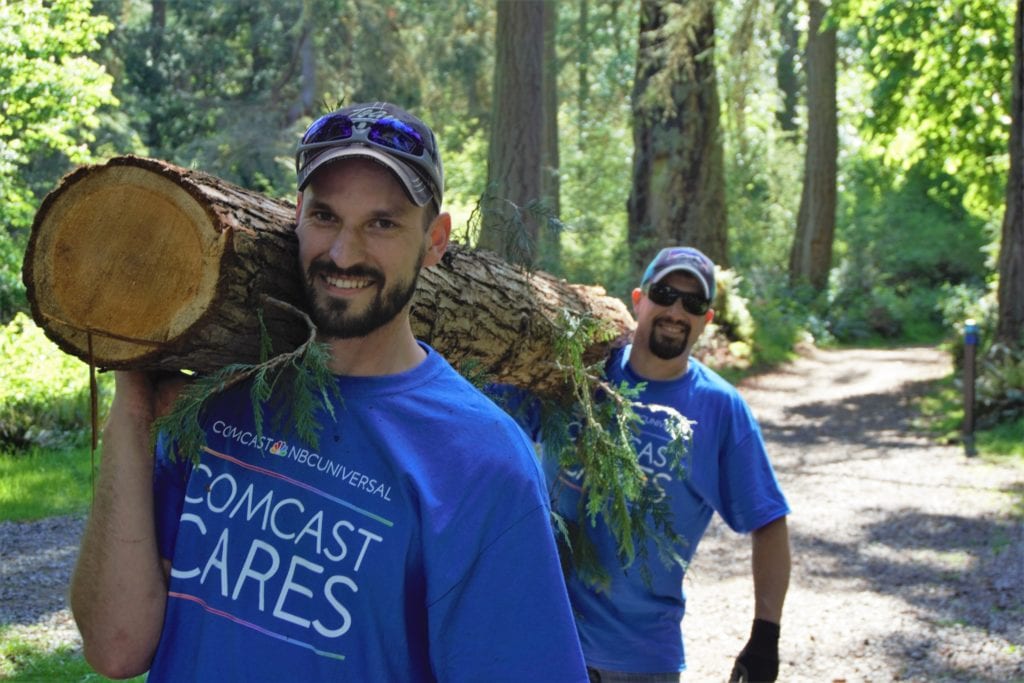 While we were only able to highlight these five projects here, we want to thanks the thousands of volunteers from across the state that helped make this year's Cares Day special. Each one helped improve our shared communities and truly made Washington state a better place. Thank you to every person and organization who joined in.