Comcast is proud to work with the Asian Counseling and Referral Service (ACRS), an organization that has given a remarkable 45 years of service to the greater Seattle community.
Our organization is also proud to announce that we were able to contribute $85,000 in 2018 to this extremely impactful group, which serves the expansive Asian community in Seattle and Washington state.
For the last 6 years, we've helped ACRS fund education for what has essentially become the new "basic skill" – digital literacy. These skills have become so important, as access and knowledge of digital resources help everyone advance in today's increasingly tech-driven world.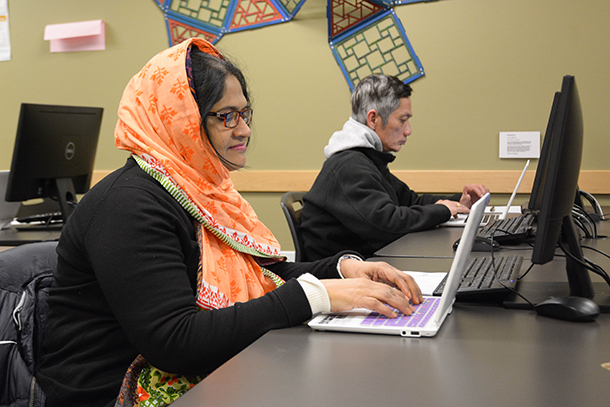 Over the last year, we decided to build an official program, launching the Comcast ACRS Digital Inclusion Initiative, which was just highlighted by the International Examiner in September. The program focuses on supporting APA youth, seniors, immigrants and refugees, and those seeking living wage work – with the access to tools and digital skills training to succeed in our region's fast-paced economy and society.
This year's grant will go towards continued expansion of this digital inclusion program and offer new opportunities for ACRS to grow technical literacy throughout the communities it serves.
Saying Goodbye to a Living Legend
It takes the over 270 staff, speaking more than 45 languages, working every single day to make ACRS a powerful agent for change in Washington state.
It also takes a special kind of leadership – a captain – to steer this large ship through choppy waters – with her only navigational tool being her absolute belief in what is right.
And that person is the quietly epic ACRS executive director – Diane Narasaki.
(Photo by Chetanya Robinson/International Examiner)
On Saturday, October 27th I had the chance to introduce Diane at the 45th Annual ACRS Gala, the final event of her 23-year stint as the skipper of this particularly important, community vessel.
As an Asian-American, I've served on the board of directors for nearly six years now and this organization has touched so many parts of my identity.
The ACRS programs that empower urban youth remind me of the generational, transformative power of being the first female in my family to go to college.
ACRS' advocacy work to secure the rights and voice of immigrants and refugees makes me think of how different it would've been for own family if they had such an organization to embrace them – when they escaped Vietnam in 1975,  traumatized, poor and lonely.
But what I take to heart the most during this time on the board – and as a philanthropic partner – is the immense privilege it has been to bear witness to the work of, and learn from, the captain of this ship.
I won't list out Diane's accomplishments here – although they are significant – as we could craft a separate, three-part blog series detailing them all.
Diane has had to make tough decisions – every day, and every minute of those 23 years; standing her ground – all for the benefit of others. To have a chance. To have a life.
The level of the personal sacrifice she dedicated is one that few of us would be willing to make for our "job." Personal sacrifices that I'm sure Diane cannot take back – that she gave for our entire community.
I can't imagine the difficult conversations she has had to make in moments of trauma and tragedy.
The patience she has had to have – to do things the right way – the hard way – to work within systems over years and create lasting policy changes that benefit not only this generation, but also many more ahead of us.
It was her choice to add to her toolkit, not only a bullhorn but also dialogue and unity.
I can only imagine the love and compassion she has had to have – to stare down an opposition – knowing that while she believed they were wrong — that they were still people whose hearts she had to win over to secure change.
So on behalf of the tens of thousands of people in our community, and the many generations that have benefited and will benefit from your strength and grace in the future, Diane – we thank you.
I will always remember the lessons you've taught me. I will also strive to bring that same level of relentless passion you showed as long as I serve on the ACRS board and in my work with non-profit and community groups across Washington state.
Diem T. Ly | Director | Community Impact & External Affairs
Member of Comcast Asian Pacific Americans Employee Resource Group