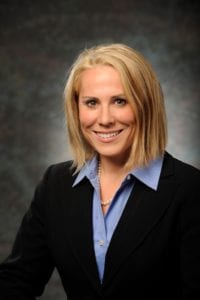 Today Comcast announced that Amy Lynch has been appointed Regional Vice President for the Washington Region. Lynch will report to Steve White, President of Comcast's West Division, and will oversee all Comcast cable operations within its Washington Region, where the company serves more than a million and a half customers and has more than 4,700 employees.
Based in the company's Lynnwood, Washington office, Lynch replaces Kyle McSlarrow who, starting in June, will lead Comcast's National Customer Experience efforts as the company's new Senior Vice President, Customer Experience. Lynch has more than 20 years of experience in the telecommunications industry and has been with Comcast for 14 years. She has been named to Cablefax Magazine's Top 100 Regional Power Players list for the last 7 years and was named one of the San Francisco Business Times' Most Influential Women.
"Washington is an amazing state, which leads rather than follows," said Amy Lynch, Regional Senior Vice President, Comcast Washington. "This community is a hotbed of technological, philanthropic and customer service innovation. These values align perfectly with my own and those of Comcast. I am eager to explore how Comcast can best bring value not only to our customers, but how we can contribute to the corporate and civic communities that make Washington so strong."
Most recently, Lynch served as the Vice President of Engineering Operations for Comcast in the West Division, where her portfolio included the deployment of next generation network infrastructure. Previously, Lynch served as the Regional Vice President of Technical Operations for the California region, leading her team of more than 2,500 in the successful roll out and support of new products including X1, Xfinity Home Security, cloud-based services and advanced business services.
"I've known Amy for more than a decade, and she is a talented, effective leader," said White. "I've watched as she has risen through the ranks and have been impressed by her leadership skills and operational effectiveness. She brings to this position both a keen intellect and a great sense of humor. Amy not only makes the work we do better, she has the gift of making our people better as well. Whether through mentoring, coaching or providing strategic vision, Amy challenges us all to do our best every day."
Amy is a New England native and holds a degree from University of Connecticut, in addition to leadership certificates from Dartmouth, Tuck School of Business and Harvard.