On Monday, July 20, in downtown Seattle, Comcast will open an XFINITY Store which is designed around the needs of customers, giving them an opportunity to explore, learn, and talk with XFINITY experts while interacting directly with the latest XFINITY products and services.
"We're excited to bring a user-friendly full-service XFINITY Store into downtown Seattle and South Lake Union where so many of our customers live and work. We realize that people in Seattle are passionate about cutting-edge technology, and we're looking forward to many great conversations," said Wanda O'Connor, Senior Director of Retail Sales.
Update: Click here for a report in Geekwire about the new store.
The store is located at the corner of Westlake and Ninth Streets though the street address for the block-long complex is 900 Lenora St.  The new store is on the second floor of the building, above the Bank of America, adjacent to Whole Foods, with an escalator, elevator and validated parking available. The store is 2,300 square feet and will employ 12 people.
The store's hours will be 9 a.m. to 7 p.m. Mondays through Saturdays and noon to 4 p.m. on Sundays.
If you are familiar with the Whole Foods in that area – and pretty much everyone is – here's another way to see our store. Stand in front of the Whole Foods and look up and to your right. The Xfinity Store is up the stairway and escalator, right across from Tutta Bella Neapolitan Pizzeria.
This will be the second Xfinity store in Seattle; the existing store at 12645 Stone Ave N. is also serving customers.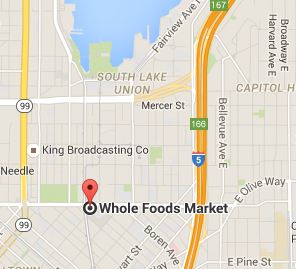 The new, interactive center features three flat screen HD TVs, a comfortable seating area and informational demo centers where customers can learn more about Comcast's products and services,  such as XFINITY Home which helps customers manage and monitor their homes while away. Product bars also provide customers with the opportunity to watch XFINITY TV, test drive XFINITY Internet speeds and experience the XFINITY Voice service. And customers can check out the signature X1 Entertainment Operating System, which provides a one-of-a-kind interactive TV experience with advance search, personalized recommendations and instant access to the latest shows and movies anytime on any screen.
Additionally, customers will receive personalized service from trained and knowledgeable Xfinity Experts and more time-saving offerings, including self-service kiosks for quick bill pay and a new queuing system that lets customers explore and be entertained while waiting for service.​
In case you're walking nearby: here's how to spot our new Seattle store from the street: