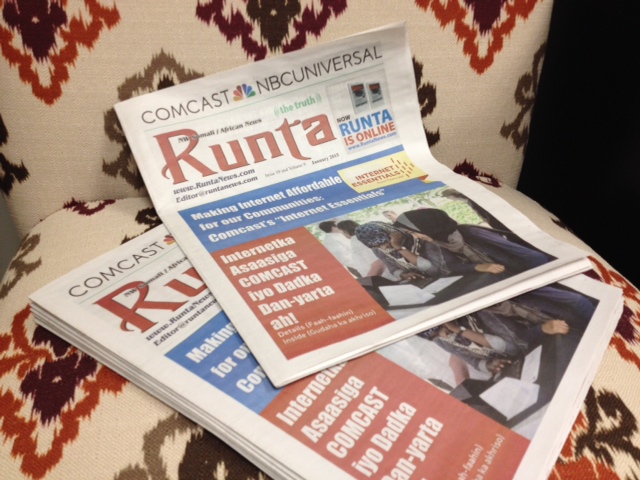 The Somali community makes up a portion of the lower-income, inner-city housing population in south Seattle and neighboring cities. Comcast serves many of these neighborhoods. As a result, reaching out to engage with the Somali community, its social services, and media are important.
Recently, Comcast partnered with Runta News, a Somali-influenced news organization based in Seattle, to promote broadband access through its Internet Essentials program. Internet Essentials provides low-cost Internet service to low-income families. Eligible households include one with a child on or qualified for the National Lunch Program. (Learn more at www.InternetEssentials.com.)
Comcast worked with Runta News' Publisher Mohamud Yussuf to develop a special, bi-lingual print and online edition along with social media promotion, to highlight the benefits and impact of the IE program. The partnership also created further brand awareness among the community, who boast more than 30,000 in the Seattle area alone.
"It was  definitely heartfelt and impactful partnership, the biggest of its kind so far," said Yussuf. "It was positively welcomed by the community here in the Seattle and around the world. We hope this partnership will continue to strengthen community ties so to further bring more positive change and collaboration."
Comcast also partners with the East African Community Services, a nonprofit based in the Holly Park housing development in south Seattle, to maintain computer lab accessibility for its residents.