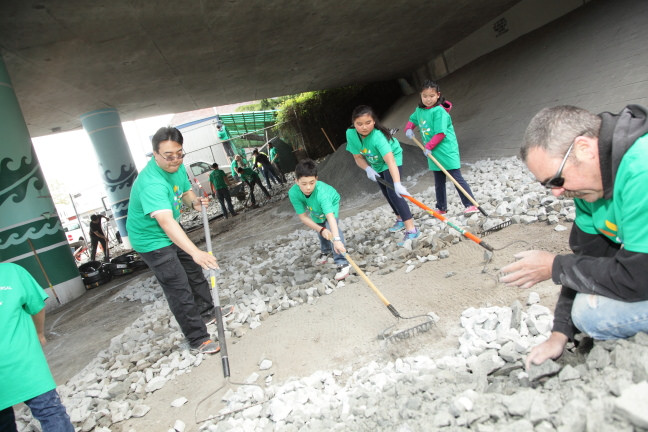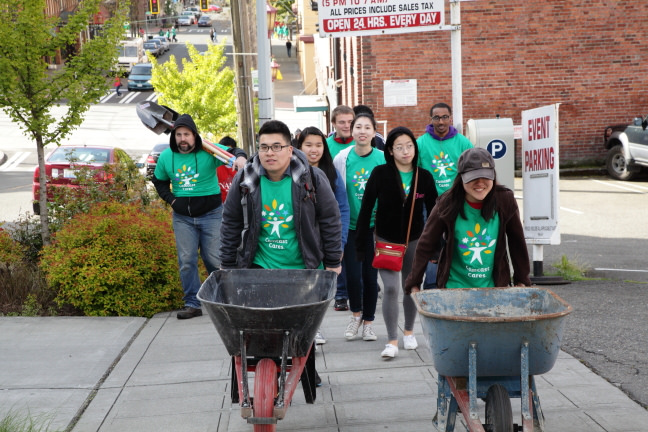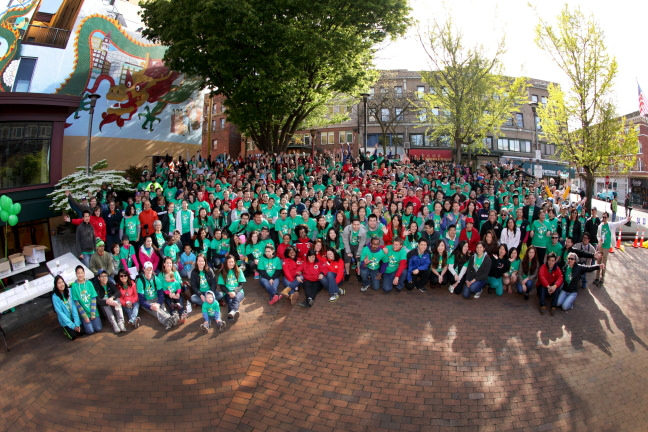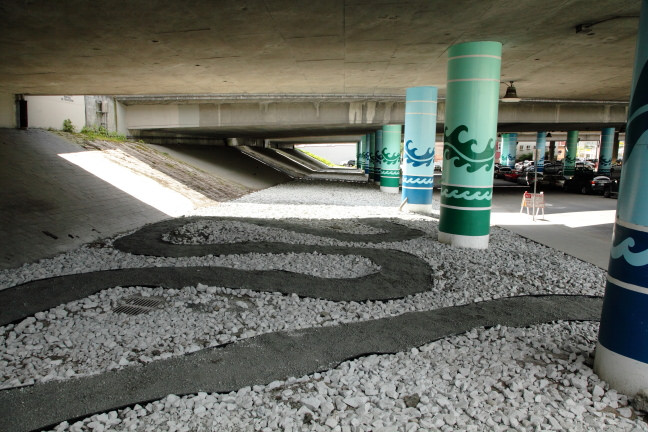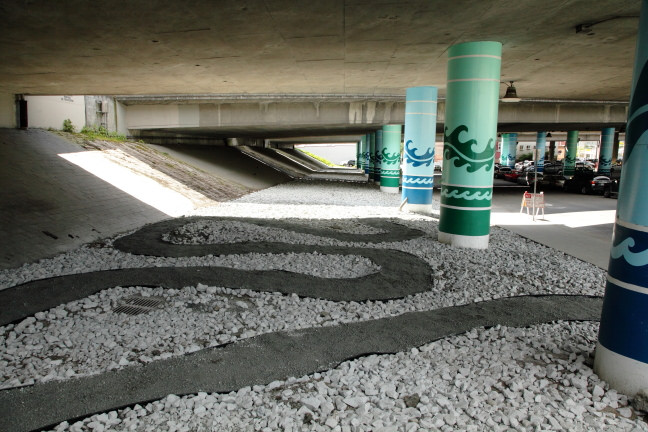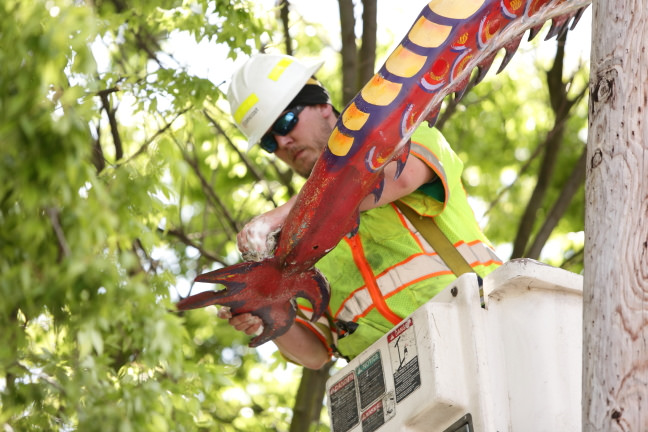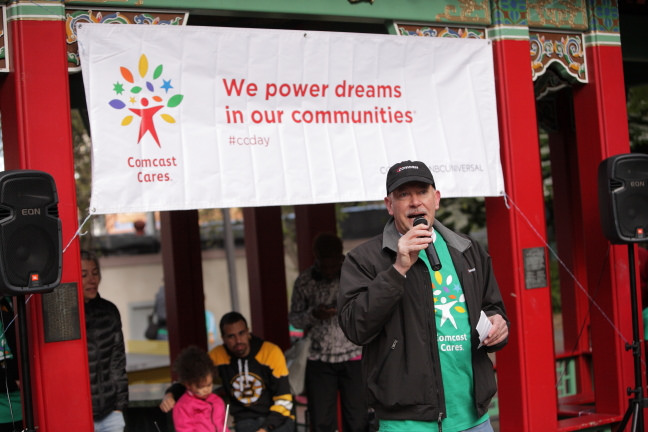 This is shared, with permission, from the Asian Counseling and Referral Service newsletter. To see more photos of the event by www.CBBELL.com,  please click here.
It's been more than a decade since the ACRS Food Bank got a major overhaul. Over time, countless feet have shuffled in and out of the trailer, down a traffic-worn wooden ramp. Seattle weather faded the sign outside and peeled the paint.
And the line of clients waiting along the King Street I-5 underpass gets longer and longer every year.
So you can imagine how excited long-time Food Bank coordinator Karen Jackel was when she learned that hundreds of volunteers would be showing up to fix up her pride and joy.
"I felt like I won the makeover lottery," Jackel said. "It's just amazing to see in one day, with everybody together, what a difference and change they could make."
On April 26th, about 600 volunteers spent their Saturday beautifying Seattle's International District as part of the 13th Annual Comcast Cares Day/ID Spring Clean. Fanning out around the historic neighborhood, they tackled 40 projects, like pressure-washing sidewalks, painting over graffiti and sprucing up the Danny Woo Garden
About 50 participants — including 22 ACRS staff, board members, and friends and family — took on the task of renovating ACRS Food Bank.
The Seattle Chinatown-International District Preservation and Development Authority (SCIDpda), the Chinatown-International District Business Improvement Area (CIDBIA), Comcast and UW architecture graduate student Ying-Ju Yeh helped ACRS design a new winding gravel path leading up to the building entrance.
Some of the more handy volunteers tore out the old wood ramp and replaced it with newer composite materials. Others gave the Food Bank a beautiful new red and white (agency colors!) paint job.
"It's not just about a fresh coat of paint — a new exit ramp and garden path outside the Food Bank will help create a safer and more comforting environment for the hundreds of hungry people who line up for hours outside our doors," said ACRS Executive Director Diane Narasaki.
The day definitely included some hard labor.
"We spread out some large rocks. For a very long time," said Comcast technician John Garland, smiling.
Garland brought his 16-year-old daughter Hali because he wanted to instill in her a spirit of volunteerism.
"There's some people that are less fortunate than us and it's nice to help others out," he said he told her. "Even when we don't have anything, it's good to help others out so they can have a better life as well."
ACRS board member Daniel Chun agreed. He and his sons Solomon, 10, and William, 9, spent the day raking and carrying rocks along the underpass.
"Cleaning up the ACRS Food Bank provided an excellent opportunity for me to expose my boys in giving back to the community with the resources they currently have," Chun said. "I figure learning to be generous with your time and energy now would be a gateway to giving financially and loving compassionately as they mature into adulthood."
On top of all these projects, Comcast service centers collected about 2,000 pounds of rice, ramen and other non-perishable goods in a regional food drive leading up to the event.
Jackel says she's already seen an uplift in morale, not just with the clients but with the staff too.
"[Clients] have been using the path, and it's not blocking the sidewalk from normal traffic," Jackel said, "and when they saw the change of color and the new sign, some of the volunteers on their first day back even asked, 'Am I at the right food bank?'"