Two years' Xfinity service offered as reward for information about fiber optic line theft in South Kitsap.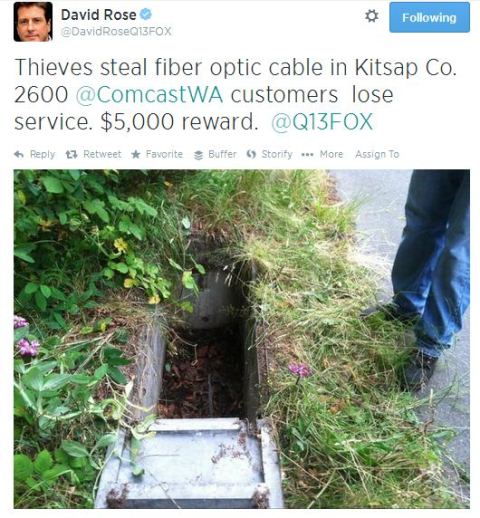 At about 2 a.m. on Monday, July 7, 2014, someone cut and pulled about 200 feet of fiber optic cable out from an underground vault on Bethel Burley Road in South Kitsap County. The result was an outage that affected 2,600 Comcast customers until splicing of numerous fiber optic strands was completed that afternoon.
Comcast is offering a reward: Receive two year's free triple-play (Internet, phone, video) Xfinity service or $5, 000 for information leading to the arrest and charges filed for the person(s) responsible for this crime.
"This is an unusual reward, but this is an unusual crime. Not only did the theft disrupt service, but we can't have thieves running around thinking every line out there is copper. Comcast utilizes an advanced fiber optic network," said Steve Kipp, vice president of external affairs for Comcast in Washington.
The thieves got away with about two 100-foot sections of fiber optic line, perhaps thinking it would be valuable for scrap. In fact, it's not, and someone who is untrained in handling fiber optic cable could suffer severe cuts if they handled the line incorrectly.
If you have information regarding this crime, please call CrimeStoppers at 1-800-222-TIPS.