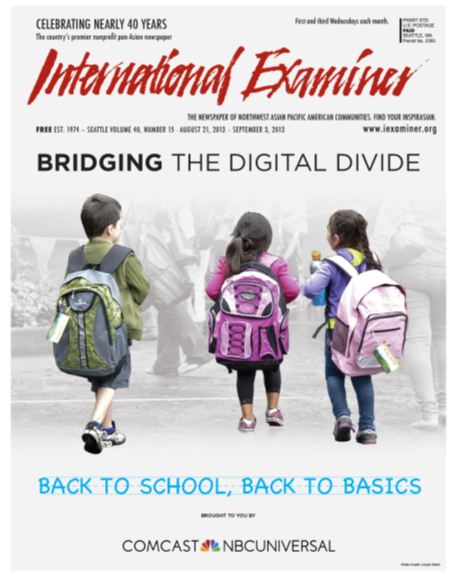 Read all about it!
Comcast in Washington partnered with the Seattle-based International Examiner in sponsoring a special "Bridging the Digital Divide: Back to School, Back to Basics" issue, published on Aug. 21 and distributed throughout the greater Seattle area.
According to a 2012 Pew Research Center report, Asian Americans are the fastest growing ethnic group in the U.S. Comcast and the editorial team at the Examiner collaborated on 10 articles, focusing on the company's community investment work from the perspective of the Asian-American community. Each article profiled local people impacted by and benefiting from Comcast's support, while highlighting the company's various community initiatives such as Internet Essentials, Digital Connectors, and our partnerships with local nonprofit groups.
You can visit the 20-page PDF of the special section by clicking here.
Here are some of the stories in the section:
Internet Essentials: Back to School, Back to Basics
A Gap in Tech Access Can Lead to a Gap in Student Performance
Digital Use Helps Combat Isolation and Depression Among Seniors
Bridging the Digital Divide: Back to School, Back to Basics
A Digital Divide Still Exists Among Area APAS in One of America's 'Most Wired Cities'
Families Should Approach Technology use for Kids Like a Diet Says UW Director