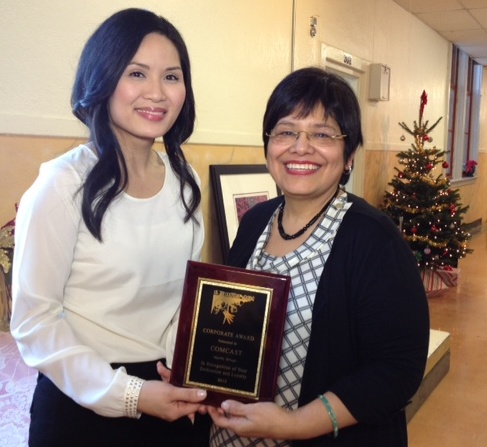 Talk about the holiday spirit! A Seattle nonprofit gives back to its corporate partner.  After years of support from Comcast  in Washington, El Centro de la Raza, a respected Latino-based civil and human rights organization, recognized the company as its Corporate Partner of the Year.
Estela Ortega, El Centro's executive director, awarded Comcast during an employee appreciation party held at the organization's Beacon Hill location.
"2012 has been an exceptional year in terms of the relationship with Comcast," said Ortega.  Three Comcast Cares Days "brought hundreds of volunteers to El Centro with many things we couldn't afford to do," said Ortega who assumed the role in 2009. Comcast Cares Day projects included landscaping, painting, cleaning, and fixing just about every inch of the historic building and property the local Latino American community call home.
"[Comcast] funded our Digital Connectors program which is teaching young Latino kids about technology and was a sponsor of our annual dinner –it was our 40th anniversary," said Ortega. "And then Comcast has been very generous with other grants and funds to support the organization. No one has been that type of a partner to support the work of El Centro de la Raza. And it isn't just about the dollars–it's about the relationships developed with Comcast."
El Centro offers comprehensive programs and services to empower the Latino community and works to advocate on behalf of its people and raise awareness of its concerns to achieve social justice.
Diem Ly, external affairs manager at Comcast-Washington accepted the award.  "On behalf of Comcast's nearly 4,000 employees here in Washington, I want to thank you for this award and to let you know we are always here to help. We not only consider you our partners, but our friends as well," said Ly.
"What can I say other than just an amazing community partner and we're proud to name Comcast in 2012 our Corporate Partner of the Year," said Ortega.
[youtube http://www.youtube.com/watch?v=JUvh_8bVKQo&w=420&h=315]