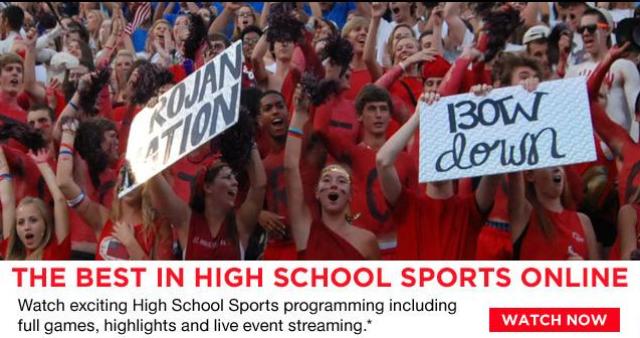 Catch Games, Athletes, Teams and Fans on the Television, PC and Mobile Devices 
Even when parents toting digital phones and cameras can make a Pee Wee football game feel like media day at the Super Bowl, it's nice to know there is still one thing that trumps even dad's online family sports highlights — watching your childs gridiron exploits on television.
This year, Comcast and its national production partner PlayOn! Sports are putting some of the best of the Puget Sound region's high school football action on television this fall.  Comcast's high school sports is going new school with coverage also available online and on mobile devices. Not only can you tell your co-workers how your son won the big game, but you can show them on your mobile device.
This week's high school football action continues with Oak Harbor at Mt. Vernon and Foster at Kennedy. Past games that are still available online and on Xfinity On Demand include: O'Dea at Seattle Prep and Puyallup at Mt. Vernon.
Throughout the school year, Xfinity TV customers in Washington state can watch local high school sporting events, like football games, and sports programming produced by PlayOn! Sports on www.xfinity.com/highschoolsports, Xfinity On Demand and through the Xfinity TV apps.  To watch the games on Xfinity On Demand just go to Get Local, click Sports with your remote control and click High School Sports.
As a bonus, many of the games from last year are available online. So when you search on their website under Seattle, you can look for last year's games too.
The following is a list of local high school football games available online, On Demand, and on mobile devices. For more information, please go to  www.xfinity.com/highschoolsports (you'll probably want to search under the 'Seattle' tab).
Date
Game
Friday, August 31
Kentwood @ Auburn
Friday, September 7
Lakes @ Bellarmine
Friday,  September 14
Edmonds-Woodway@ Meadowdale
Friday, September 21
O'Dea @ Seattle Prep (at West Seattle Stadium)
Edmonds-Woodway @ Jackson (at Everett Memorial Stadium)
Friday, September 28
Puyallup @ Federal Way
Seattle Prep @ Eastside Catholic
Friday, October 5
Oak Harbor @ Mt. Vernon
Foster @ Kennedy
Friday, October 12
Inglemoor @ Bothell (at Pop Keeney)
Auburn-Mountain View @ Lakes (at Harry Lang Stadium)
Friday, October 19
Bellarmine @ Olympia (at Ingersoll Stadium)
Ferndale @ Lynden
Friday, October 26
Federal Way @ Curtis
Metro League Championship