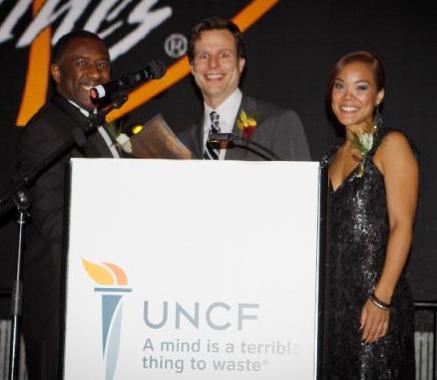 The local chapter of the United Negro College Fund (UNCF) recently honored Comcast as its Corporation of the Year before more than 300 people, including the President and CEO of UNCF, Dr. Michael Lomax, during the organization's annual fundraising gala held at the Experience Music Project in Seattle.
"Anyone who grew up in the 70s like I did, hearing the iconic UNCF advertising campaign 'A Mind is a Terrible Thing to Waste,' can't help but get goose bumps thinking about the work this organization has accomplished over the years," said Steve Kipp, VP of Communications for Comcast, who accepted the award on behalf of the company.
"UNCF has distributed more funds to help minorities attend school than any entity outside of the U.S. government. That's a fact that makes the decision to support UNCF an easy one for Comcast," Kipp told the audience.
UNCF honored Comcast with a Dr. Frederick D. Patterson award for its ongoing support of the UNCF's Portfolio Project which helps high school junior and seniors, most of whom will be the first in their families to attend college, learn how to apply for school and earn scholarships to pay for their education.
The award is named after the UNCF's founder and honors individuals and organizations who have demonstrated extraordinary commitment to and belief in UNCF's mission.