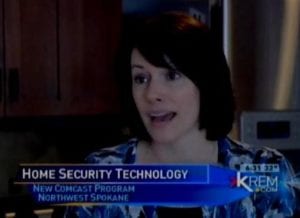 Check out a video demo of the product in a Seattle employee's home, as reported by Geekwire.
And here's a very thorough report about the home security aspects of the new service by KREM 2 in Spokane.
Comcast today announced the launch of Xfinity® Home across the company's Washington State service area. Xfinity Home offers traditional home security components, like police and fire alarm protection backed by 24/7 professional monitoring, as well as the ability to remotely adjust digital thermostats, turn lights on or off and watch secure live streaming video from wireless cameras while away from home. The service also comes with the Xfinity Home app, which is available for free on Apple's iTunes App Store®.
"Xfinity Home brings digital home monitoring to a new level,"said Mitch Bowling, Senior Vice President and General Manager of New Businesses for Comcast Cable. "It comes with a range of broadband-based technologies that empower customers to stay better connected to their home virtually anytime, anywhere."
Xfinity Home offers consumers the ability to create personalized settings that can do things like provide real-time e-mail or text alerts when doors open or close or when motion detectors report activity occurring inside or outside of the home. In addition, the service comes with a tablet-like touch screen with a menu of widgets that allow access to the latest weather, news, traffic, and sports scores.
In addition to 24/7 professional monitoring, Xfinity Home provides customers with the ability to:
watch live streaming video of their home via wireless cameras;
access security controls remotely via a Web portal or the Xfinity Security app for the iPhone;
manage home utilities like digital thermostats and lights;
have more peace of mind since both battery and cellular backup helps ensure customers remain fully protected even in the event of a power outage.
"We are extremely pleased to offer Xfinity Home to our Washington customers," said Len Rozek, senior vice president of Comcast's Washington state region.  "This state-of-the-art product leverages the power and flexibility of our fiber optic broadband network to bring a whole new level of innovation, choice and value to our customers."
Today, Comcast is selling the Xfinity Home Preferred Package for as low as $39.95 per month. Xfinity Home customers will also be eligible to receive up to a 20 percent discount on their homeowners' insurance. Visit www.xfinity.com/home for more information on pricing, equipment and additional features.
The service was first unveiled in Houston in mid-2010 with the name Xfinity Home Security and is continuing to roll out into various markets in the U.S.