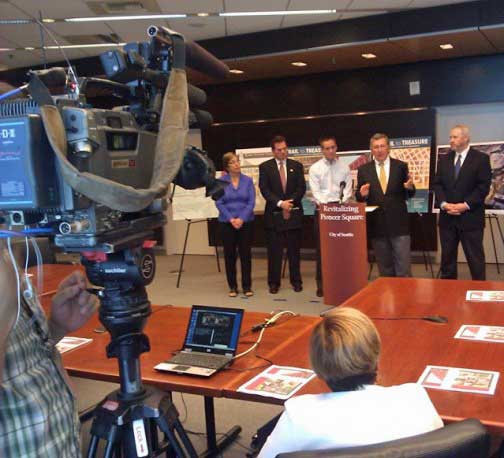 Who says government doesn't move fast? It seems like only yesterday – and it was June 6 – that we posted the article below. Comcast asked the city to let the company bring business-class High-Speed Internet to one of Seattle's most amazing neighborhoods, Pioneer Square.
So here we are, and the city of Seattle has selected Comcast. Everyone here is thrilled to be involved in the neighborhood revitalization.
What I picked up at the mayor's news conference is that the departure of The Elliott Bay Book Company was a big deal. It definitely hurt the neighborhood because a lot of people came to Elliott Bay Books. By moving the Capitol Hill for sound reasons, Elliott Bay created a lot of buzz about the Pike/Pine area.
But that was 15 months ago, and now the former Elliott Bay Book Company space has been remodeled to include new businesses, such as Onehub.  Now the people of Pioneer Square are ready for us all to stop asking, "Has the departure of Elliott Bay hurt you?" They'd rather we be asking, "So what new opportunities are opening up in Pioneer Square?" And the people of Comcast in Washington State are thrilled to be providing a big part that opportunity.
I mention Onehub for a reason, as their CEO, Charles Mount, was at the news conference. He said the company was moving to Pioneer Square specifically because the area's going to get High-Speed Internet. That's opportunity, and opportunity met.
There was quite a lot of news coverage and reporting, and the following links have a lot more information and differing perspectives on Pioneer Square. The first, from KOMO, shows some great views of the neighborhood on a lovely day.
KOMO reporting about Pioneer Square
Geekwire (has the remarks of our own Todd Elliott, regional manager for Comcast Metro Ethernet, who spoke at the news conference)
A link mentioned above, the mayor's blog post about where this all fits in to revitalization of Pioneer Square.