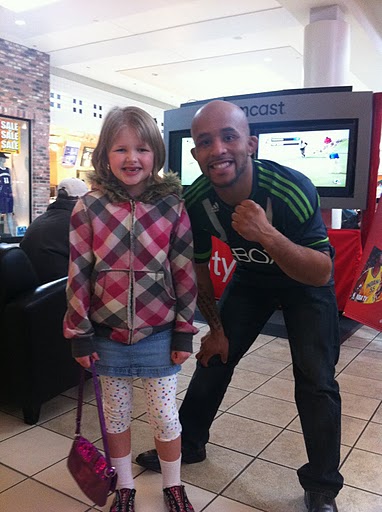 Fans lined up at the Xfinity kiosk in Northgate Mall last Saturday for autographs with mixed martial arts (MMA) bantamweight fighter Demetrious "Mighty Mouse" Johnson http://mightymousemma.com/ who appeared in cooperation with the UFC, the Ultimate Fighting Championship league.
He charmed not only fans, but the three Comcast employees working the kiosk. "He was great with kids. They loved having their picture taken with him," said Comcast Sales Representative Brittany Long. "A lot of fans were struck with how personable he was."
Johnson's appearance was also popular in social media, where fans were told they could print pictures of the event from Facebook. You can see more pictures of the appearance by the amazing @UFC_Shanda including some of those pictures of him with children at https://picasaweb.google.com/shandamaloney/UFCFightNight24DemetriousJohnsonFighterAppearanceComcastWA# and on Mighty Mouse's own Facebook page, http://www.facebook.com/pages/Mighty-Mouse-Johnson/137393966320580#!/album.php?id=137393966320580&aid=34563
We love that his Facebook profile picture shows him in a fighting stance next to the poster at the kiosk. We wish him well in his upcoming fights; Mighty Mouse is sure welcome back at our place anytime.