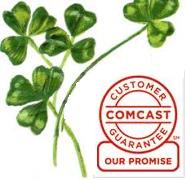 What's your favorite Irish band? We've got a special selection for St. Patrick's Month in our On Demand offerings. Xfinity TV customers can start at the On Demand button and then navigate to Music , then Music Picks, and then Irish Bands.
Vote here on your favorite Irish band from among the On Demand offerings by Saturday. We'll honor the top three bands at the end of the week.
Here's a chart of just some of the offerings.  Here's the link to vote for your favorite.
| | |
| --- | --- |
| Havoc | Flogging Molly |
| Havoc | Dropkick Murphy's |
| Havoc | The Frames |
| Havoc | Shane MacGowan |
| Music Choice | U2 "Vertigo" |
| Music Choice | Snow Patrol "Signal Fire" |
| Music Choice | The Script "For the First Time" |
| Music Choice | Dropkick Murphys "I'm shipping Up To Boston" |
| Music Choice | The Swell Season "Low Rising" |
| Music Choice | The Corrs "Summer Sunshine" |
| Music Choice | Enya "Only Time (Remix)" |
| Music Choice | Paddy Casey "Fear" |
| FUSE | Dropkick Murphy's "State of Massachusetts" (ALREADY BEEN PROGRAMMED) |
| FUSE | Dropkick Murphy's "Shipping Up To Boston" (ALREADY BEEN PROGRAMMED) |
| FUSE | Flogging Molly "Seven Deadly Sins" |
| FUSE | Flogging Molly "Laura" |
| FUSE | The Script "Breakeven" |
| FUSE | The Script "The Man Who Can't Be Moved" |
| FUSE | The Swell Season "Low Rising" |
| FUSE | The Thrills "One Horse Town" |
| FUSE | The Thrills "Not For All The Love In The World" |