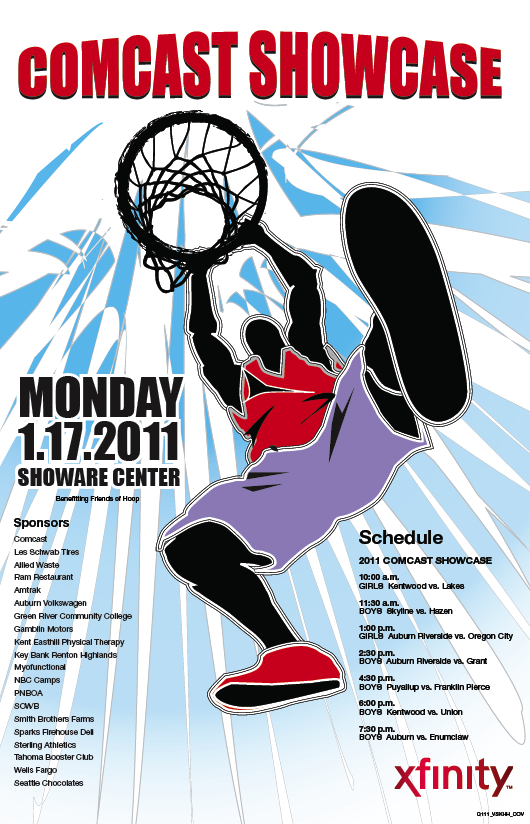 This weekend is the Comcast Showcase at the ShoWare Center, a celebration of youth sports and the heritage of Dr. Martin Luther King. We will be filming these games, and showing them On Demand later in the week. That means a proud parent or one of the players or their pals can watch the game anytime, 24/7.
The show starts 10 a.m. Monday, Jan. 17. Here's the schedule, straight from the ShoWare Center web page: Tickets are $10 adults, $5 seniors & students with ASB, under 6 for free
10:00 a.m. GIRLS Kentwood vs. Lakes
11:30 a.m. BOYS Skyline vs. Hazen
1:00 p.m. GIRLS Auburn Riverside vs. Oregon City
2:30 p.m. BOYS Auburn Riverside vs. Grant
4:30 p.m. BOYS Puyallup vs. Franklin Pierce
6:00 p.m. BOYS Kentwood vs. Union
7:30 p.m. BOYS Auburn vs. Enumclaw
We film the games, and then there's some post-production. Normally, it's a pretty short turnaround from a youth preps game to On Demand; since there are so many games at this tournament, it might take a few more days. We'll keep you posted.
We film a lot of youth games and show them On Demand; see our previous post for more info.