I'll finally admit it. Stephenie Meyer's The Twilight Saga is captivating… and enjoyable. I've read the books; I've watched the movies. Until recently, I used to tell people I only knew about Twilight because my friends made me read the series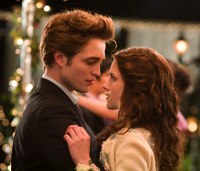 and dragged me to the theaters. After catching myself looking for The Twilight Saga: Eclipse trailers online—the movie comes to theaters in five days—I realized that I am in fact a real (albeit closet) Twilight fan.
Lucky for me and all other Twilight fans (even the ones in denial), Comcast is offering an exclusive behind-the-scenes look at 'Eclipse' with the On Demand service. In this seven-minute featurette, which is at the end of The Twilight Saga: New Moon, viewers will see some of the situations Bella, Edward and Jacob have sunk their teeth into. Yeah, you read that correctly: that's seven minutes of "Eclipse" footage you won't be able to find anywhere else.
Oh, and since the movies are filmed in Oregon and not Forks, Wash. (the saga's actual location), fans can watch the documentary Twilight in Forks to get a feel of the town. It's On Demand (in the "Fantasy" movie folder) and shows the ways that Bella, Edward and Jacob have helped change Forks. As someone who goes to college in Washington state, I'm pretty curious to see the way Forks has become famous because of a book series.
There's even more Twilight material On Demand that'll help prepare all Twilight fans for next week's release of "Eclipse." Fans can refresh their memories on the series' first two movies, Twilight and "New Moon" by watching the trailers, or they can view the directors' commentaries, or they can even watch extra scenes from "New Moon." This footage doesn't cost extra, so fans will be able to save some money—to buy themselves popcorn while watching "Eclipse" next week, of course.
So, Twihards, grab your remotes and go to On Demand so that you can get yourselves up to speed on everything Twilight. I know that's what I'll be doing—I mean, I know that's what my friends will be "making" me do.
Katelin Chow, an intern with Comcast in Washington, is a junior at the University of Washington.