Representatives from Evergreen Goodwill, students, instructors, and leaders from Seattle and King County joined Comcast today to celebrate the opening of an enhanced Lift Zone & Community Space at Evergreen Goodwill's King County Job Training and Education Center in Seattle. Together, Evergreen Goodwill and Comcast Washington will help thousands of families across King County, as well as several other Puget Sound communities, receive the online resources, access, and skills they need for education and employment.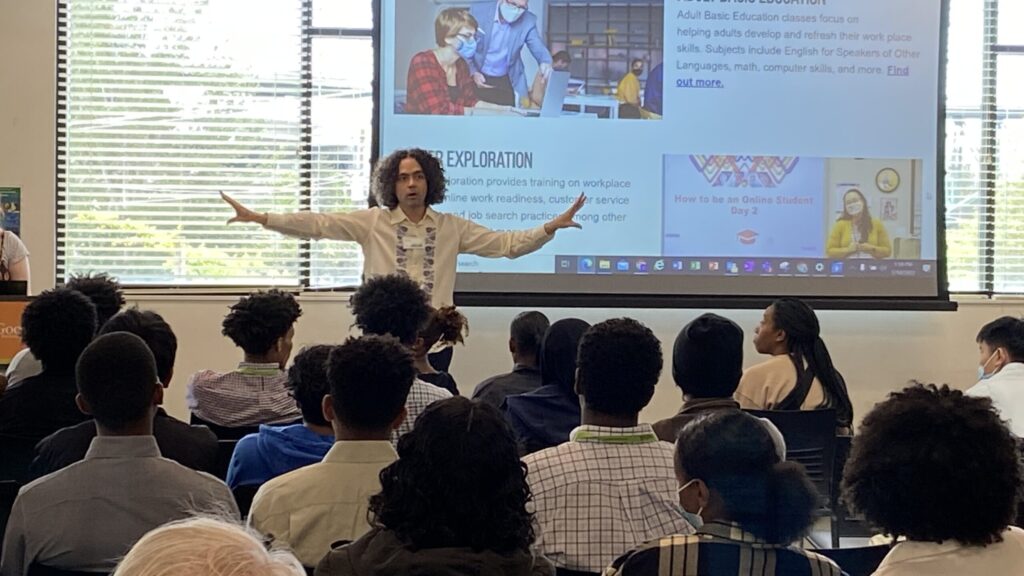 Thanks to a Comcast investment of nearly a quarter million dollars, Evergreen Goodwill's community room received state-of-the-art technology upgrades that will be used for a variety of online and hybrid meetings, nonprofit community partner programming, and soon, online and hybrid job training.
Evergreen Goodwill offers free Job Training and Education (JTE) programs to people in the community, including adult basic education classes and workshops, which focus on preparing adults for today's workplace, as well as career exploration classes and programs providing training for workplace skills and job search practices. Evergreen Goodwill also offers wraparound support services to students, connecting them to things like housing and food assistance. In addition to safe, in-person programming, hybrid and online courses are now available through Evergreen Goodwill's JTE Programs, expanding the organization's reach to help even more people across Northwest Washington.
Given the current economic climate, Evergreen Goodwill is looking to connect as many people as possible to good jobs currently available in the community and help people expand their education. That is why Comcast's contribution has also been used to support Evergreen Goodwill's FREE JTE programs in Kitsap, Skagit, Snohomish, and Whatcom Counties as well. These JTE programs are also benefiting from Comcast's Lift Zones program, which has enhanced WiFi capabilities at all five Evergreen Goodwill JTE Centers, providing hundreds of students and community members with convenient, consistent internet access.
"Bridging the digital divide has been a critical priority for Comcast since 2011 and increasing digital literacy in Washington is as important now as it has ever been," said Rodrigo Lopez, region senior vice president, Comcast Washington. "Working side by side with Evergreen Goodwill, we are working to level the digital playing field in communities throughout our state."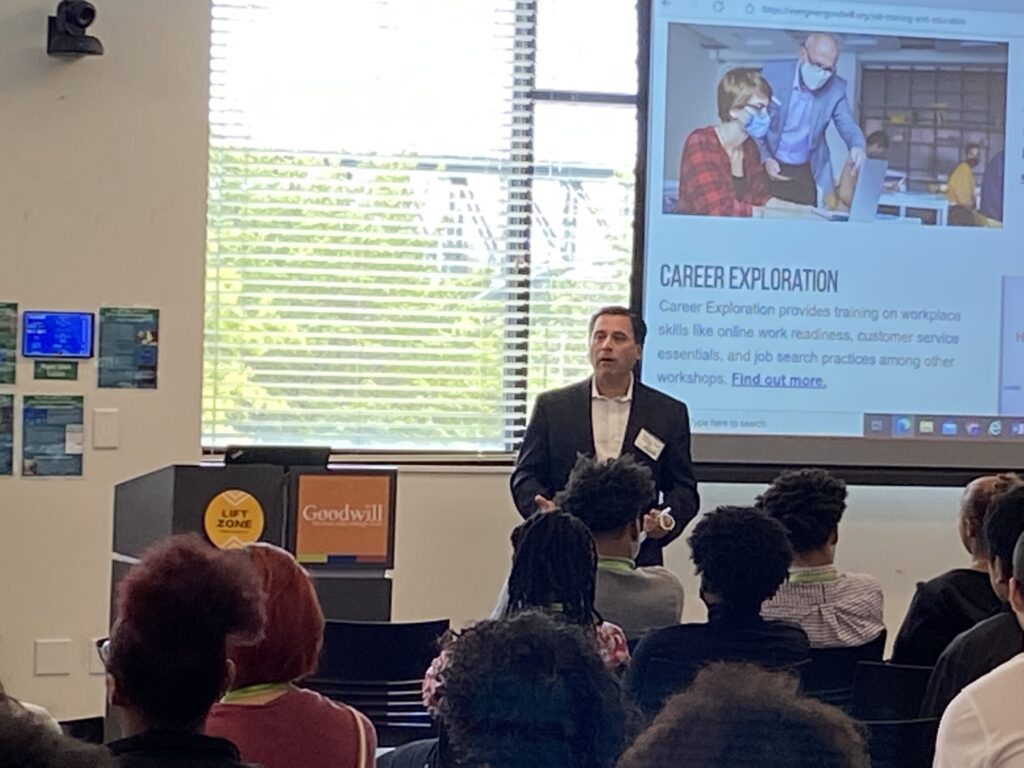 History of Evergreen Goodwill and Comcast Partnership
The partnership between Comcast and Evergreen Goodwill has already transformed the lives of hundreds of students by funding 118 Chromebook laptops purchased for JTE students across King, Kitsap, Skagit, Snohomish, and Whatcom Counties; supporting digital equity instruction; upgrading technology, and teaching students foundational computer skills. Students are able to check out a computer from Goodwill's technology library and use it while they are enrolled in one of Goodwill's 8-week digital skills classes.
"For nearly a century, Evergreen Goodwill's mission has focused on breaking down significant barriers to education and employment through our JTE Programs, with the critical support of community partnerships like the one with Comcast," said Eileen Aparis, vice president of Mission at Evergreen Goodwill. "For the past 11 years, we have collaborated with Comcast on programs and initiatives, with the company donating a collective more than $675,000, to help job seekers receive the resources, access, and skills they need to survive and thrive in our digital world."
Since March of 2020, Evergreen Goodwill has continued to make adjustments to its vital programs and services due to the pandemic – serving more than 2,700 students during the 2020-2021 fiscal year alone. Evergreen Goodwill is projecting enrollment to continue to increase as pandemic conditions improve. Thanks to this partnership, laptops and increased access to high-speed internet connectivity are providing students with the tools they need while on the path to financial stability.
The computer donations and grants to Evergreen Goodwill are part of Project UP, Comcast's $1 billion commitment to reach 50 million people over the next 10 years with the tools, resources, and skills needed to succeed in a digital world. Project UP is Comcast's company-wide initiative to advance digital equity by connecting people to the internet; opening doors for the next generation of innovators, entrepreneurs, and storytellers; and creating new career pathways in the arts, media, and technology.
For the past 10 years, Comcast's Internet Essentials program has connected more people to the internet and to the technology they need to participate and excel in an increasingly digital world. The program offers low-income families high-speed broadband Internet service for $9.95 per month, the option to purchase a heavily subsidized, low-cost Internet-ready computer, and multiple options to access free digital literacy training in print, online, and in person.
Comcast has launched more than 90 Lift Zones in Washington state since November 2020 to assist families who, for various reasons, have limited or no internet connection in their homes. Lift Zones provide free robust WiFi hotspots in safe spaces designed to help students and families get online, participate in distance learning, do homework, search for jobs, and access healthcare information and public assistance.
About Evergreen Goodwill
Evergreen Goodwill is a non-profit organization founded in 1923. We currently operate five Job Training Centers, 24 retail stores, and 30 donation sites in King, Snohomish, Skagit, Whatcom, and Kitsap County. We employ over 1,500 people in our region. Every day we do our best to connect people with the jobs, services and skills they need. Evergreen Goodwill provides quality, effective employment training and basic education to individuals experiencing significant barriers to economic opportunity. Because Jobs Change Lives. Job Training and Education. Visit https://evergreengoodwill.org/about-us for more information.