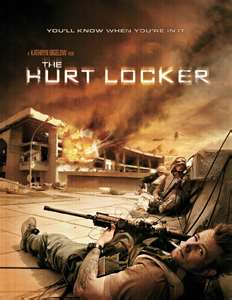 Every week we run a list of the most popular movies, children's programs and music videos for Seattle and the rest of the Washington Comcast market. We measure this by looking at how many households request these programs On Demand.
This  list is in for 2010 as a whole. Given the large presence of the military in Washington, it's no surprise The Hurt Locker was No. 1. It is fascinating that The Hurt Locker was only No. 5 nationwide; in the nation as a whole, and most individual markets, The Blind Side was the most viewed film.
1. The Hurt Locker
2. The Blind Side
3. Sherlock Holmes
4. Robin Hood
5. The Book of Eli
6. Hot Tub Time Machine
7. Shutter Island
8. Couples Retreat
9. Clash of the Titans
10. Iron Man 2
11. Inglourious Basterds
12. The Twilight Saga: New Moon
13. Avatar
14. Grown
15. Get Him to the Greek
16. It's Complicated
17. Date Night
18. Predators
19. Green Zone
20. The Hangover
Seattle and the rest of Washington differ from the nation as a whole, where these were the top 10 choices for 2010 (I should add, for 2010 so far as 2011 is not quite here yet) You can read more about the popularity of On Demand here.
The Blind Side
Couples Retreat
The Twilight Saga: New Moon
4. Hot Tub Time Machine
The Hurt Locker
It's Complicated
Shutter Island
Date Night
The Book of Eli
Avatar
You could have some fun analyzing the comparison between Washington and the nation. Given that the Twilight saga is set in Washington, I'm surprised the movie was No. 3 nationally and No. 12 here.  Any thoughts on why, or any other comments about the results?