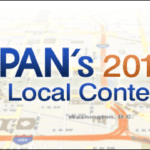 The following information comes from our friends at C-SPAN. Just as some background, if you watch C-SPAN, you may have noticed a couple weeks ago when they had several programs one weekend that highlighted Bellingham. This is part of what they call the C-SPAN Cities Tour. The tour is an awesome way to dive deep into some of the nation's most interesting communities and get to know them pretty well: places as diverse as not only Bellingham, but Chattanooga, Tenn., Providence, R.I. and Yuma, Ariz.
In partnership with Comcast, C-SPAN's 2014 Cities Tour takes Book TV and American History TV on the road. C-SPAN2 and C-SPAN3 are featuring the literary life and history of each of these selected cities during special weekends on the public affairs network.
The good news is that another Washington community comes up for a C-SPAN visit next week: the capital city, Olympia. On Monday, Mayor Stephen Buxbaum, Comcast and the Washington State Historical Society will welcome C-SPAN to Olympia during an event kickoff at the Washington State Historical Society State Capital Museum Lord Mansion. The event will also feature a traditional Native American blessing ceremony.
At Monday's event, C-SPAN representatives will reveal the stories and segments that will be explored by the national network during their week-long stay. During their time in Olympia, C-SPAN representatives will also conduct community and educational outreach – in other words, visiting a whole lot of people.
Local segments recorded throughout the week on non-fiction book channel Book TV (on C-SPAN2, Comcast channel 25) and history channel American History TV (on C-SPAN3, Comcast channel 150) during C-SPAN's special Olympia weekend February 1-2.
The speakers Monday will include:
Jennifer Kilmer, Exec. Director of Washington State Historical Society

Susan Rohrer, Manager, State Capital Museum

Mayor Stephen Buxbaum
Shanna Stevenson, Coordinator, Washington Women's History Consortium
Ashley Hill, C-SPAN
Walter Neary, Dir. Of Communications, Washington Market, Comcast (yep … I'm being let out of the building for this!)
After the event, C-SPAN begins several days of visiting various literary and historic sites to interview local historians, authors and civic leaders over the week. Just as tip, if you want to keep track of them, keep an eye on the C-SPAN Cities Tour Twitter page.
Programming recorded in Olympia will air on Book TV/C-SPAN2 (Comcast channel 25) and American History TV/C-SPAN3 (Comcast channel 150 ) on February 1 and 2, 2014. C-SPAN is available in Olympia on Comcast channel 24 and HD channel 645.