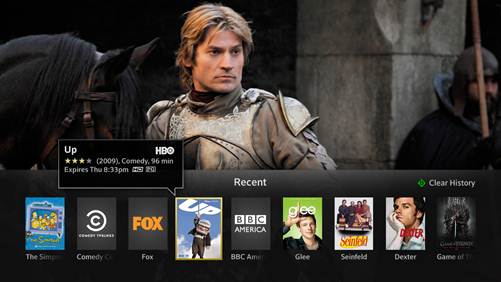 [youtube=http://www.youtube.com/watch?v=3bFXwLLOZik]Click here for great info about what X1 can offer you: X! Features
X1 transforms traditional TV into an Entertainment Operating System – complete with apps, personalization and social media tools, second-screen integration and more
LYNNWOOD, WA – August 5, 2013– Comcast today announced the launch of its cloud-based interactive television experience, the X1 Platform from XFINITY across Washington state.
Unlike any other video service available today, X1 is a cloud-based platform that transforms TV into an interactive and integrated experience. It integrates the largest collection of video with social media features, interactive apps, web content and more in one easy-to-navigate, sleek viewing experience. The launch of X1 is part of Comcast's ongoing and evolving effort to take advantage of its powerful network and IP technology to constantly bring new innovations to market.
"The X1 Platform represents a major leap forward and is another way we are making the future of awesome a reality for our customers," said Len Rozek, Comcast Washington Senior Vice President. "The X1 Platform transforms traditional television into a complete entertainment operating system. Its cloud-based technology allows us to deliver new product features to our customers faster than ever. As the entertainment world shifts and technologies merge, we are excited to provide customers the option of being able to connect in ways they may never have imagined. "
New X1 features and capabilities available to customers in Western Washington and Spokane County today include:
Visual, Sleek User Interface: A modern user interface that enables one-click access to programs and a highly visual guide to entertainment options and related information.
Social Integration and Customized Apps: An expanding selection of tailored-for-TV apps, including traffic, weather, voicemail, and a sports app to track multiple games at once and check the latest scores, standings and schedules while watching a favorite show. X1 also includes a selection of Web-based apps, including Facebook and Pandora.
Faster, More Personalized Search and Discovery: A personalized viewing experience with recommendations based on search input and previously watched shows and movies. They also have the ability to search simultaneously across live TV, XFINITY On Demand and DVR recordings – and see the last nine programs watched across all services with a single tap on the remote control.
In-Home Convenience: The ability to watch DVR recordings from any room in the house and simultaneously record up to four shows while watching another.
In addition, the X1 Remote App lets customers use motions, gestures, and voice commands to control their TVs with their Apple handheld devices. For example, customers can use voice commands to navigate the guide and search for content; swipe their iPhones to page through the interactive TV guide and program personalized short-cuts and favorites ("Quick Links"); and shake their device to pause XFINITY On Demand content.
X1 will initially be available to new XFINITY Triple Play customers and will become available to additional customer segments in the future. The X1 Platform is currently available in more than a dozen markets, and Comcast plans to launch the service in all remaining markets by the end of the year.
About Comcast Corporation:
Comcast Corporation (Nasdaq: CMCSA, CMCSK) is a global media and technology company with two primary businesses, Comcast Cable and NBCUniversal.  Comcast Cable is the nation's largest video, high-speed Internet and phone provider to residential customers under the XFINITY brand and also provides these services to businesses.  NBCUniversal operates 30 news, entertainment and sports cable networks, the NBC and Telemundo broadcast networks, television production operations, television station groups, Universal Pictures and Universal Parks and Resorts.  Visit www.comcastcorporation.com for more information. For more information about Comcast in Washington state, visit http://www.wacomcast.com.