Every summer, our communications office has the honor of hosting an intern who comes to us through Comcast's partnership with the Emma L. Bowen Foundation. For the past two years, that was Katelin Chow. Katelin graduated this year from the University of Washington. I'm not sure the Bowen Foundation planned this deliberately, but now after a Husky we get a Cougar: Fadumo Ali, who starts Washington State University this fall. We're delighted to work with Fadumo, and you can look forward to many blog posts from her. To begin, we asked her to talk about herself:
I was born in October 1993, in Hargesia, Somalia. When I was about five years old, my family and I had left due to the civil war that had broken out. Since then, the situations in Somalia have just gotten worse. When we first moved, we lived in Egypt for two years, and then afterwards came to Washington State.  Having had spent a majority of my life in Washington, I can't recall all my memories of travelling across the world.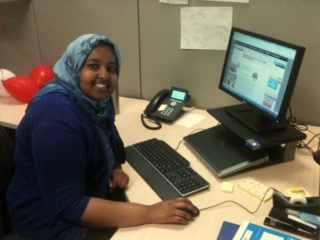 I have lived more than half my life in Bellevue, where I recently graduated from Sammamish High School. Sammamish High has provided me with opportunities to grow as a person. Sammamish High allowed me to explore a wide variety of things that I would have not thought of being interested in at first. I remember my junior year: first day in journalism class. I had no knowledge about journalism at all. But it was in this class that I was able to develop skills that I will hone for the rest of my life.
The thing that intrigues me most about becoming a journalist has to be writing  in a way impacting people's lives.  No matter what I am writing about, I get a satisfaction from knowing someone out there enjoys reading my articles as much as I enjoy writing them.  Prior to my graduation, I was a news editor for my high school newspaper for two years.
During this time, I was able to cover stories about the revolutions that had occurred from Tunisia and Egypt to Libya and Syria. It was my experiences with writing these stories that led me to wanting to become a journalist. I enjoyed everything about it, from researching and finding out information about these revolutions to understanding what the Arab Springs were really about and what caused the spark. I would interview history teachers from Government, American, and World History to get their perspectives of the revolutions. But most of all, I enjoyed interviewing students. Hearing their different comments interested me in learning more about peoples' perspectives.
I've been interested in world affairs even before I discovered journalism. During my sophomore year, I remember feeling an urge to help people in Haiti in any way that I could. So within my high school club, Family, Career and Community Leaders of America (FCCLA), I had set up fundraisers and bake sales to help contribute to Haiti relief and the "Hope for Haiti" campaign.  During my junior year, I felt as if people had forgotten, just a year after,  about the earthquakes and people still in Haiti. So I wrote in the school paper about the difficulties that people still had to endure.
I remember hearing about the tsunami in Japan while in my psychology class. Right there and then I knew that I had to write an article about it. That afternoon I started interviewing students and writing up a rough draft in the middle of class. I also spoke to students that were from Japan, in order to get their perspective. When I was writing, some people had advised me not to write an article about the tsunami  because it had only happened less than a day before, but I went on and wrote about it anyway because I knew if I hadn't I would have to wait a month after till we had published the next issue.  When I was interviewing students and teachers about what was happening in both Haiti and japan, I saw their eagerness to tell me their point of view in hopes that they were somehow helping.  I made sure that every interviewee had a say, and this also influenced me not to just become a journalist, but one that gives everyone equal say, regardless of whether or not they had similar ideas as I did.
After the issue had been published, both teachers and students talked to me about how reading about the articles motived them to do something involving their clubs. That year clubs such as FCCLA, Amnesty international, and Key Club joined together to raise funds for the tsunami and reignite to remember Haiti's earthquake. The satisfaction knowing that my words and thoughts, combined with others', opinions and experiences, had motivated people to somehow give back, was what had really showed me how impactful one article could be, and how influential that journalism is. These experiences are what have inspired me to become a journalist and hope to someday impact more people.
This year, I was offered an opportunity to be in  Emma L. Bowen Foundation program. I was first introduced to this organization through my journalism teacher, Mr. Leffler,  during my senior year of high school.  The Emma L.  Bowen Foundation provides minority students who are interested in pursuing a career in the media industry an opportunity to intern at a company during each summer and school break until they graduate from college. While in this program, students are exposed to a variety of corporate experiences in order to develop the skills needed to become successful in future career goals. I was selected to participate in an internship with Comcast Washington. Although having only had a week of experience, I have learned more about the corporate world than I would sitting through any class. I have gained extensive knowledge about what goes behind the scenes.
With my internship here I hope to gain more knowledge as time goes on and to get a clear understanding about all perspectives of journalism and public relations.  Through being a public relation intern for Comcast, I am able to see a whole new perspective of what it really is like to be in public relations versus just learning about journalism alone.
My future journalistic goals are to attend Washington State University and graduate from the Edward R. Murrow College of Communications, with a degree in broadcast journalism.  I hope to become a broadcast reporter, anchor, or producer for either CNN, Al-Jazeera, or the BBC.
And after our one week with Fadumo, we are pretty sure that's where she's going to work in a few years.