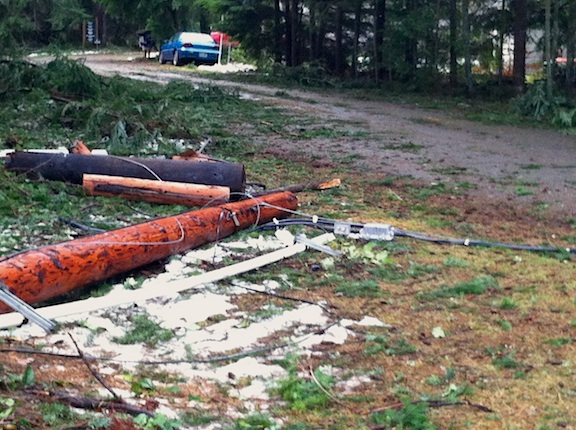 Thanks to the return of electricity and hard work by our teams, Comcast estimates the number of customers without service is about 800. This is down from about 260,000 at the height of the storm's effects.
In King County, as customers have been calling in reports of damage, we're going to reconnect and re-hang more than 450 lines back to homes. We hung 575 lines yesterday. The power seems to have gone out again in parts of North Bend, so we'll be back up there too. One bit of good news is that all the roads are reopened, so access is certainly a lot easier than it has been on other days.
In Thurston County, we're still getting calls from customers of lines down as the power comes back up, and people discover problems.  In Pierce County, we're in cleanup mode, but part of Roy lost some power last night and so we're back there today. We're proactively driving in areas where customers may not have reported trouble yet, and are working more than 100 reports of lines still down in Pierce County today.
Meantime, winds hit parts of Bellingham, and after the power comes back on we'll make sure service is back to normal there too.
If you have any doubt whether your outage is reported, please call us at 1-800-COMCAST. One thing we would NOT want to have happen is to have your Comcast cable line on the ground, and for us not know about it.
Note: You are welcome to leave comments at this post, but we don't monitor this site 24/7 for purposes of customer service. If you have a customer service question or report, call us at 1-800-COMCAST,  email us at we_can_help ('at' symbol) cable.comcast.com, or reach out via Twitter to @ComcastCares. Please DO NOT use this WordPress site to report an outage.