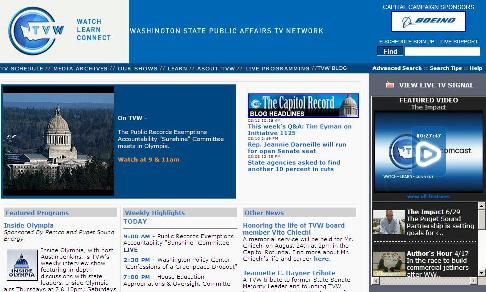 Many of us who work here enjoy following news about politics and public policy; and of course TVW, the Washington state public affairs network, is a primary source for firsthand information of what's going on in Olympia and the rest of the state. So it was thrilling to have them sign up as one of the first customers of our Metro Ethernet solution (which you last heard about when we and the city of Seattle announced the Pioneer Square iniative) Here's a news release about the project.
TVW Upgrades with Comcast Business Class Ethernet
for Reliable Internet Connectivity and Cost-Effective Solution
— Scalable 30 Mbps Metro Ethernet Solution Provides a High-Capacity Connection
and Saves TVW $12,000 a Year —
 Comcast Corporation, one of the nation's leading providers of entertainment, information and communications products and services, today announced that TVW, one of the oldest and most respected state public affairs networks in the country, has upgraded its infrastructure with Comcast Business Class Ethernet.
TVW, often called the Washington state version of C-SPAN, provides unedited television coverage of state government, elections and public policy events to more than 3.5 million viewers.  From its state-of-the-art media center in Olympia, TVW sends a television signal to a satellite service at the University of Washington's main campus in Seattle, which transmits the signal for distribution to cable television households statewide.
TVW is leveraging Comcast's Ethernet Private Line Service for a secure, high-capacity fiber connection between its Olympia media center and the University of Washington satellite service.
"Our viewers trust TVW to bring them not only unbiased but uninterrupted legislative programming. A network outage would take us off the air, and we would lose credibility with our viewers," said Greg Lane, President of TVW.  "As a previous T1 customer, we began looking for a new point-to-point solution.  With Comcast, we found a reliable, cost-effective solution with scalable bandwidth that can be easily ramped up when we need it in the future."
TVW made history in 1995 with the first televised state court proceeding – a death penalty case being heard by the Washington Supreme Court. The TV network has big plans for the future to ensure Washingtonians have access to all public proceedings; therefore, the cable television network needs a data connection with flexible and scalable bandwidth to grow with it.
About Comcast Business Services
Comcast Business Services, a unit of Comcast Corporation (Nasdaq: CMCSA, CMCSK), provides advanced communication solutions to help organizations of all sizes meet their business objectives. Through a modern, company-owned fiber network that is backed by 24/7 technical support, Comcast delivers Business Class Internet, TV and Voice services for cost-effective, simplified communications management.
Launched in 2011, the Comcast Business Class Ethernet suite offers high-performance point-to-point and multi-point Metro Ethernet services with the capacity to deliver cloud computing, software-as-a-service, business continuity/disaster recovery and other bandwidth-intensive applications. Comcast Metro Ethernet services are significantly faster than T1 lines and other legacy technologies, providing scalable bandwidth from 1 Mbps up to 10 Gigabits-per-second (Gbps) in more than 20 major US markets.
For more information, call 1-800-391-3000 or visit www.business.comcast.com.