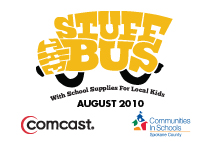 It's always fun to introduce two friends who have not met each other before. I had that honor and fun AND it led to a great project to help Spokane's children. Just to be personal for a second, I call this one of the highlights of 2010 for me.
The two friends in question are two great organizations, Adserveo and Communities in Schools of Spokane County. They teamed up to collect supplies for needy children this Fall. Check out this Public Service Announcement that's airing now in Spokane. You can also watch the spot via Facebook and click 'like' if you like it.
[youtube=http://www.youtube.com/watch?v=dUfTSPxCxTU]
The Comcaster you see is Ken Watts, our general manager in Spokane, who puts an enormous amount of time into working with nonprofit groups and other civic causes. Ken is chairing the board of directors of Communities in Schools of Spokane County this year.
This campaign is hoping to provide school supplies to 3,000 students in Spokane County who do not have the basic school supplies they need.
The campaign also includes print and radio advertising. I got a kick out of seeing the actual schoolbus via this picture from Facebook. Of course, if you are in Spokane and are in a position to help – we know in this economy not everyone is in a position to help – you can"Stuff the Bus" with school supplies this week thru Friday at the Spokane Valley Costco Store from 10 a.m. through 6 p.m. If you do contribute, thanks very much!
The needed supplies include items such as notebook paper, notebooks, pens, pencils, blunt scissors, erasers, rulers, supply box, tissues, crayons, glue sticks, tennis shoes, folders, 3-ring binder, calculator and graph paper.